Applications such as Frac water supply, fire water protection, fire jockey, chemical cleaning and environmental tank cleaning, are a perfect match for our High Volume, High Head Pump rentals.
High Volume Water Pump Rentals
When you need reliable high volume high head pump rentals for a job, Sage Rental Services is the place to go. We have an extensive selection of hardworking high-volume high-head pumps with various pump sizes that will ensure your team works quickly and efficiently. Our rental fleet includes pump models with maximum flow rates ranging from 750 gallons per minute (GPM) to 12,000 GPM. They can also tolerate different amounts of solids, with our smaller models handling .78-inch obstructions and our larger models moving solids up to 3 inches in diameter.
Applications for High Head High Volume Water Pumps
The versatile designs of our water pumps allow you to use them in industrial applications that require a high pump head and a high-volume flow of water. With their exceptional suction lifts, robust construction, and solid-handling capabilities, you can be confident these pumps will work as hard as you do.
The high heads of these water pumps create more pressure, allowing them to push liquid higher into the air. Because of their high-pressure capabilities, these pumps are ideal for a range of industrial applications, such as:
Fracking water supply
Firewater protection and fire jockeys
Chemical cleaning
Environmental tank cleaning
Quarrying
Mining
Steel manufacturing
Oil and gas extraction
Suppressing dust
Refining petrochemicals
Irrigating crops
These applications are a perfect match for our high-volume high-head pump rentals.

Extensive High Volume High Head Pump Rental Fleet
We have various high volume high head water pumps with maximum pump heads ranging from 450 feet to 760 feet. If handling solids is a more important feature for your specific job, our largest model has a flow rate of 12,000 GPM and can transport solids of up to 3 inches. We can also help you gauge what type of suction lift you need for your job. Our inventory of rentals includes:
– PP43C21: This vacuum-assisted centrifugal pump offers high performance, automatic dry priming, and an exceptional suction lift. This high head pump model has a 4-inch suction, 3-inch discharge, and a maximum head of 760 feet. It can also handle solids up to .78 inches.
– PP63C17: This model offers high-pressure and high-volume functionality with a maximum flow of 600 GPM and a pump head as high as 525 feet. This pump also has a 6-inch suction and 3-inch discharge.
– PP86C21: This reliable pump offers ultimate flexibility in various industrial applications. The PP86C21 features a flow rate up to 4,000 GPM, a maximum pump head of 650 feet, 8-inch suction, and 6-inch discharge.
– PP108S18: This frame-mounted pump features automatic dry priming with high-pressure and high-flow capabilities. Although it has the smallest pump head, it can handle solids that measure up to 1.25 inches.
– PP128S22: This model is the best choice for applications that deal with viscous or heavy-solid liquids. The PP128S22 can handle solids up to 3 inches in diameter and has a maximum pump head of 720 feet.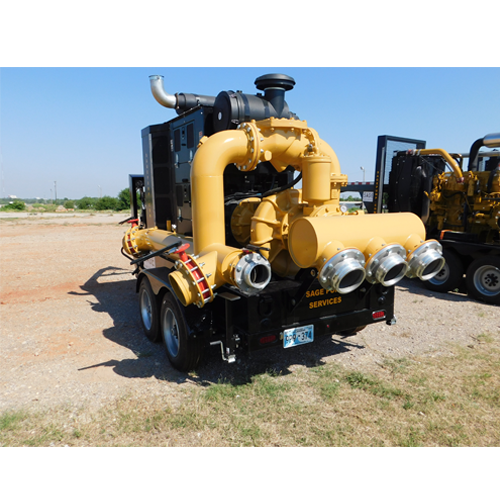 Why Choose Sage Rental Services For Your High Volume Pumps?
We're committed to exceptional customer care, which is why our extensive selection of high-volume tank cleaning pumps is available for rent 24/7. Our team of experienced technicians regularly services and maintains our rental fleet to ensure each piece of equipment meets our high safety and quality standards. What's more, we offer on-site operator training and four-hour replacements if you ever have an issue with your rental.
Ready to experience the Sage Rental Services difference? Our team is available to answer your questions about our high head water pumps and give you more information on our products and services. Contact Sage Rental Services by filling out our online form or calling us at (833) 563-1918.

GET IN TOUCH
Contact Sage Rentals Today
Get in touch with Sage Trench Services for 24 hour sales, rentals, and support.