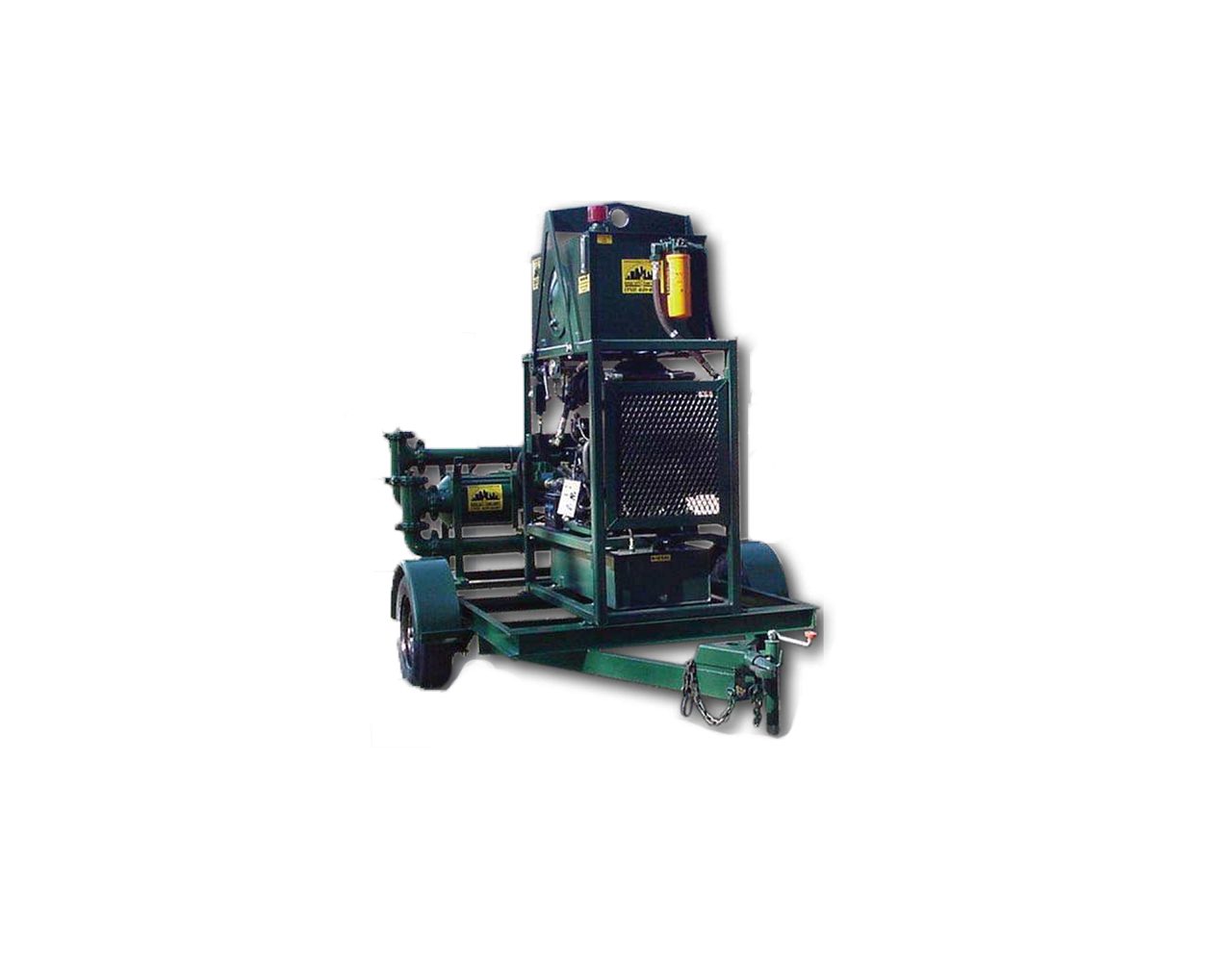 Sludge Master Pumping System
Jobs often require a specialty pump to overcome temperature or chemical compatibility issues. Many of our centrifugal pumps are available in Stainless Steel. Our rental fleet also includes other specialty pumps such as the Sludge Master piston pump. The Sludge Master pump passes solids such as, rags, rocks, nuts, bolts, tyvek suits, rubber gloves, rope, and more without damage to the system. We have a multitude of pump rental solutions to choose from.
The Sludge Master, designed and developed by our company. This hydraulically-driven, piston pumping system is designed to pump heavy sludges, slurries and other viscous materials that contain solids and impurities. The pumping system has a low rate up to 250 gallons per minute. The self-priming Sludge Master, which is virtually leak proof, can dry run for a limited time without damage. It features low maintenance with no diaphragms that can burst under pressure or mechanical seals to fail.
The integral hydraulic power unit is custom designed to drive the Sludge Master's reciprocating pistons. The hydraulic power unit includes the engine (diesel or electric), hydraulic reservoir, hydraulic control unit, oil cooler and interconnecting hoses. The hydraulic power unit can be located remotely, as far as 200 feet from the Sludge Master pump.
Sludge Master Pump
Hydraulic Power Unit
Cast iron and steel construction
30 HP diesel engine with 30 gallon fuel tank
Sealed ball valve control on each cylinder
60 gallon hydraulic oil reservoir
Dual 12" cylinders capable of moving approximately 5 gallons per stroke
Skid mounted, ready for trailer mount
55 strokes-per-minute maximum
Hydraulic oil cooler
Nitrile gaskets and polymite packed seals on
cylinders and valves
Needle control valve
4" inlet/discharge
Hydraulic low control valve
Viton O-rings throughout
Pulsation stabilizer
Approximately 1000 lbs., 73" W x 24" D x 37" H
Specialty Pump Rentals
When choosing a specialty pump rental for your next project, it's essential to remember that not all pumps are created equal. Many pumps are unable to handle certain chemicals and easily clog when pumping debris or viscous liquids. Temperature is another consideration, as specific pumps are vulnerable to heat and extreme temperatures. Jobs often require a specialty pump to overcome temperature or chemical compatibility issues. Our rental fleet of specialty pumps will allow you and your team to pump corrosive materials, sludge, or chemicals safely and efficiently.
In addition to the different materials you'll be pumping, you should also consider your project's required flow rate and discharge head. Every pump has a flow rate measured in gallons per minute and a maximum discharge head. Your project scope may require a higher flow rate or greater discharge head, which would mean renting a specialty pump that fits your unique specifications.
Sage Rental Services is available 24/7, and many of our centrifugal pumps feature a stainless steel composition. Our rental fleet also includes other specialty pumps, such as the Sludgemaster piston pump.
Types of Specialty Pumps
Renting specialty pumps from Sage Rental Services allows your team to get the most efficient designs and the highest performance levels while enjoying flexible scheduling and affordable pricing. Specialty pumps are essential for a variety of industries, including:
Construction
Oil and gas
Sewage and wastewater
Disaster response and recovery
Mining
There are numerous types of specialty pumps that are perfect for a range of applications. Our rental fleet has some of the industry's most reliable designs, such as:
Sludgemaster pump: The Sludgemaster passes solids such as rags, rocks, nuts, bolts, Tyvek suits, rubber gloves, rope, and more without damage to the system.
Piston pump: A piston pump is ideal for viscous liquids. It also has an extensive selection of pressure ratios and numerous displacement rates. Choose between pneumatic or hydraulic piston pumps with single-post or double-post configurations to fit your needs.
Stainless steel pump: Precision-casted stainless steel adds extra durability to your submersible pump. What's more, stainless steel is less vulnerable to corrosion and rust, making it ideal for harsh chemicals and corrosive liquids.
Poly pump: Perfect for transferring high volumes of water and agricultural chemicals, a poly pump consists of glass and polypropylene.

Specialty Pumps for Any Job
Does your company need extra equipment to cover an increase in demand? Or are you trying to replace a malfunctioning pump to complete a time-sensitive job? Whatever the reason, our extensive selection of specialty pumps will have the equipment you need exactly when you need it.
Our dedicated team of certified technicians ensures you receive the best possible pump every time by regularly inspecting and servicing each piece of equipment. Our commitment to the highest-quality customer care includes four-hour rental replacements and on-site operator training.
Unsure of which pump would be best for your specifications? Our team is on hand to offer advice and guide you on finding the right equipment for your job, including our low DBA canopy for when noise is an issue.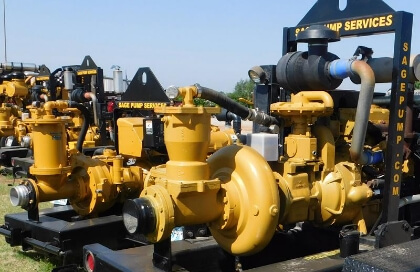 Quality Specialty Pump Rentals From Sage Rental Services
Experience high-quality equipment and unsurpassed customer care when you partner with Sage Rental Services for your next specialty pump. We value your time and understand how important project deadlines are, which is why our reliable equipment is available 24/7. Contact Sage Rental Services online or call us at (833) 563-1918. Our knowledgeable team is ready to offer advice and answer any questions you might have.

GET IN TOUCH ABOUT SPECIALTY PUMP RENTALS
Contact Sage Rentals Today
Get in touch with Sage Trench Services for 24 hour sales, rentals, and support. Our team can help you decide what specialty pump rental will suite your unique job needs.