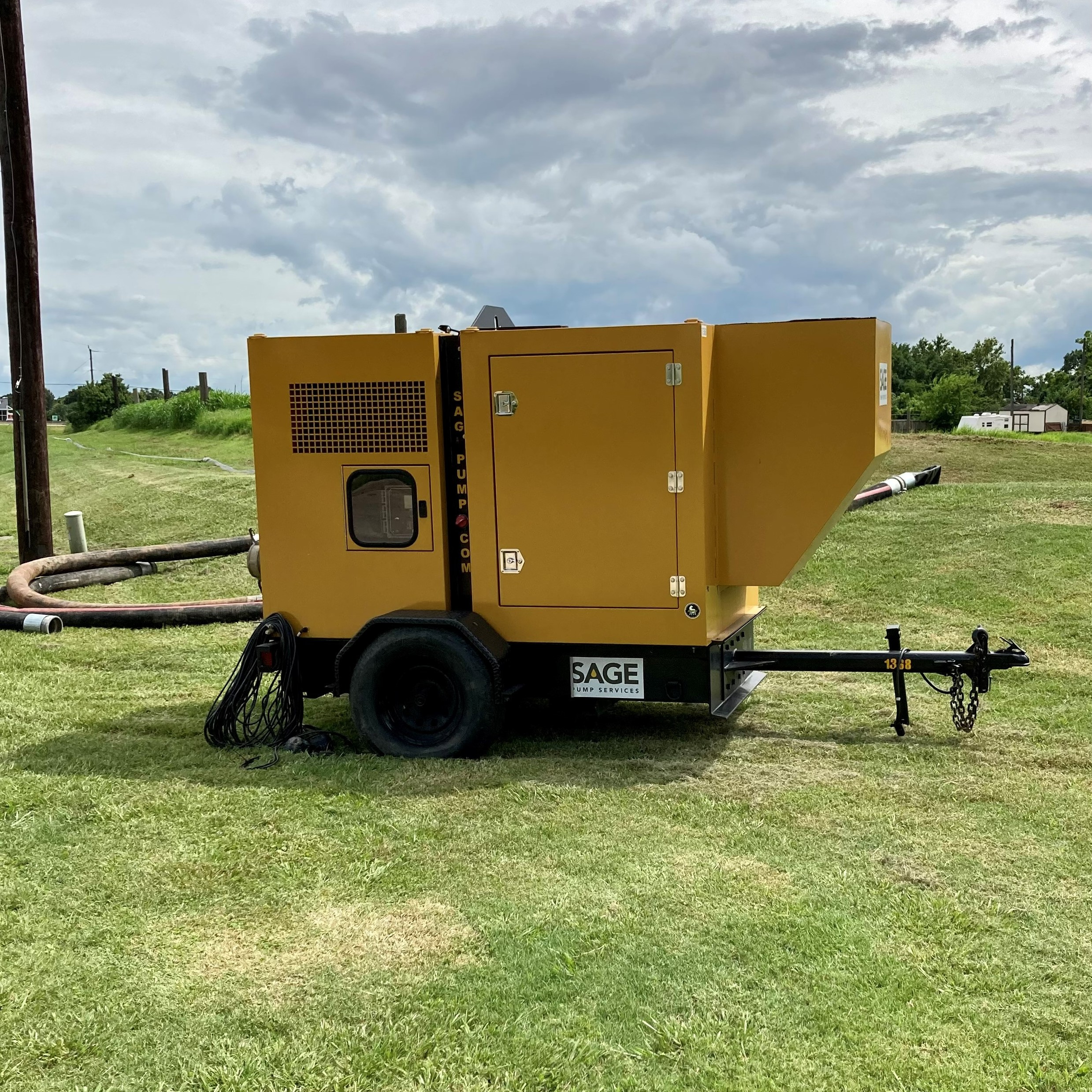 Low dB Silencer Pumps
When noise is an issue, our low decibel silencer pumps are perfect for the job–especially for sewer bypass operations and work in residential areas. The same great pump ends and priming system on our diesel driven PPseries pumps are equipped with a low DBA canopy that feature 68dB @ 30' to support pump noise reduction in various pump applications.
| Model | Size | Max Flow | Max Head | Max Solids |
| --- | --- | --- | --- | --- |
| PP44S10L71 | 4″ suction / 4″ discharge | 1600 GPM | 150 feet | 3 inches |
| PP66S12L71 | 6″ suction / 6″ discharge | 3200 GPM | 130 feet | 3 inches |
| PP66S14L71 | 6″ suction / 6″ discharge | 3600 GPM | 300 feet | 3 inches |
| PP88S12L71 | 8″ suction / 8″ discharge | 4500 GPM | 200 feet | 3 inches |
| PP1212S17 | 12″ suction / 12″ discharge | 9500 GPM | 325 feet | 3.6 inches |
| PP14S17 | 14″ suction / 14″ discharge | 14,200 GPM | 210 feet | 4 inches |
Sound Attenuated Pump Rentals
Our rental fleet of sound attenuated pumps offers full performance while generating fewer decibels. These high-quality silent pumps are ideal for working on projects in residential areas or locations with noise restrictions, like hospitals, healthcare facilities, schools, or commercial centers. Minimize the noise on your job site without compromising on the strength and reliability of your equipment rentals.
The low-decibel canopy houses your pump of choice, so you can get the best machine for the job while complying with noise regulations. Perfect for working on sewage bypass projects, these systems are also ideal for site dewatering in construction and more. Sage Rental Services is happy to help you with your sound attenuated pump selection.
Perfect for Any Industrial Pump
Our silent pump housing is compatible with our extensive selection of hydraulic, pneumatic, and electric pumps. Our pump rental inventory includes:
Piston pumps: Move viscous liquid quickly and efficiently with a single-post or double-post piston pump.
Stainless steel pumps: Avoid damage from corrosion with a stainless steel pump. This material is durable and rust-resistant, so you can use it with various liquids.
Sludgemaster pumps: This pump is ideal for transporting liquids containing many large solids of up to 3.5 inches in diameter. Our Sludgemaster pump can handle rocks, bolts, rags, Tyvek suits, rope, and rubber gloves without clogging or suffering damage.
Poly pumps: With their glass and polypropylene construction, poly pumps are ideal for pumping agricultural chemicals and high volumes of water.
Regardless of which device you need, our silent pump housing will reduce the noise levels on your work site without compromising on performance.

How to Choose the Right Sound Attenuated Pump Enclosure
You know that our silent housing system works with a range of pumps, but how do you choose the right model? Some essential things to consider include:
– Material: You need to know what type of liquid you'll be transporting to select an appropriate pump enclosure. Things like viscosity, density, temperature, and percentage of solids are all important when making a decision. You should also note if the liquid is corrosive or abrasive and if the chemical composition is hazardous.
– Flow rate: The flow rate is in gallons per minute, and every application will have unique flow rate requirements. The higher the flow rate, the larger your pump will need to be–which will come in to play with selecting the appropriate sized sound attenuated pump enclosure.
– Pressure: Different types and sizes of pumps have different pressure thresholds. To choose the perfect equipment, you should know the pressure you'll be pumping against.
If you need guidance on which sound attenuated pump enclosure is appropriate for your needs, our experienced team is on hand to help. We'll work with you to determine which industrial pump will be the best for your application and whether or not you should use our sound attenuated housing unit.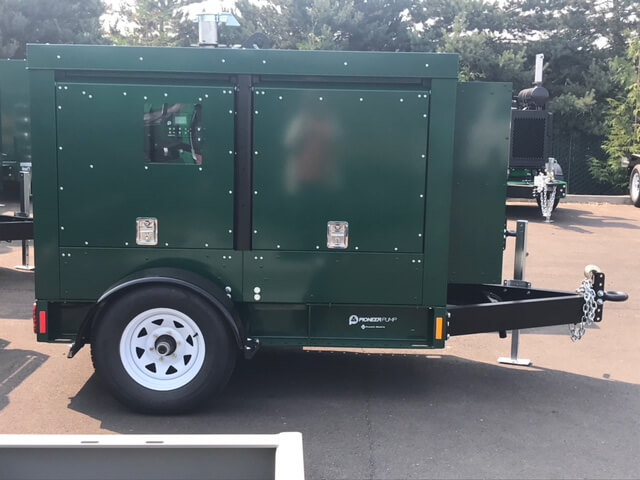 Why Work With Sage Rental Services?
As a premier renter of high-quality industrial pumps, we're committed to getting you the best equipment every time. Our team consists of certified pump technicians who regularly inspect and maintain our rental fleet. We offer on-site operator training to ensure your team knows how to handle the equipment correctly. Work smarter and safer by working with Sage Rental Services.
Our commitment to delivering exceptional customer care means we have 24/7 support and four-hour rental replacements ready to go if needed. Our experienced team is also available to offer advice and help you select the perfect pump rental for your job. Fill out our online contact form today to learn more about our services.

GET IN TOUCH
Contact Sage Rentals Today
Get in touch with Sage Trench Services for 24 hour sales, rentals, and support.