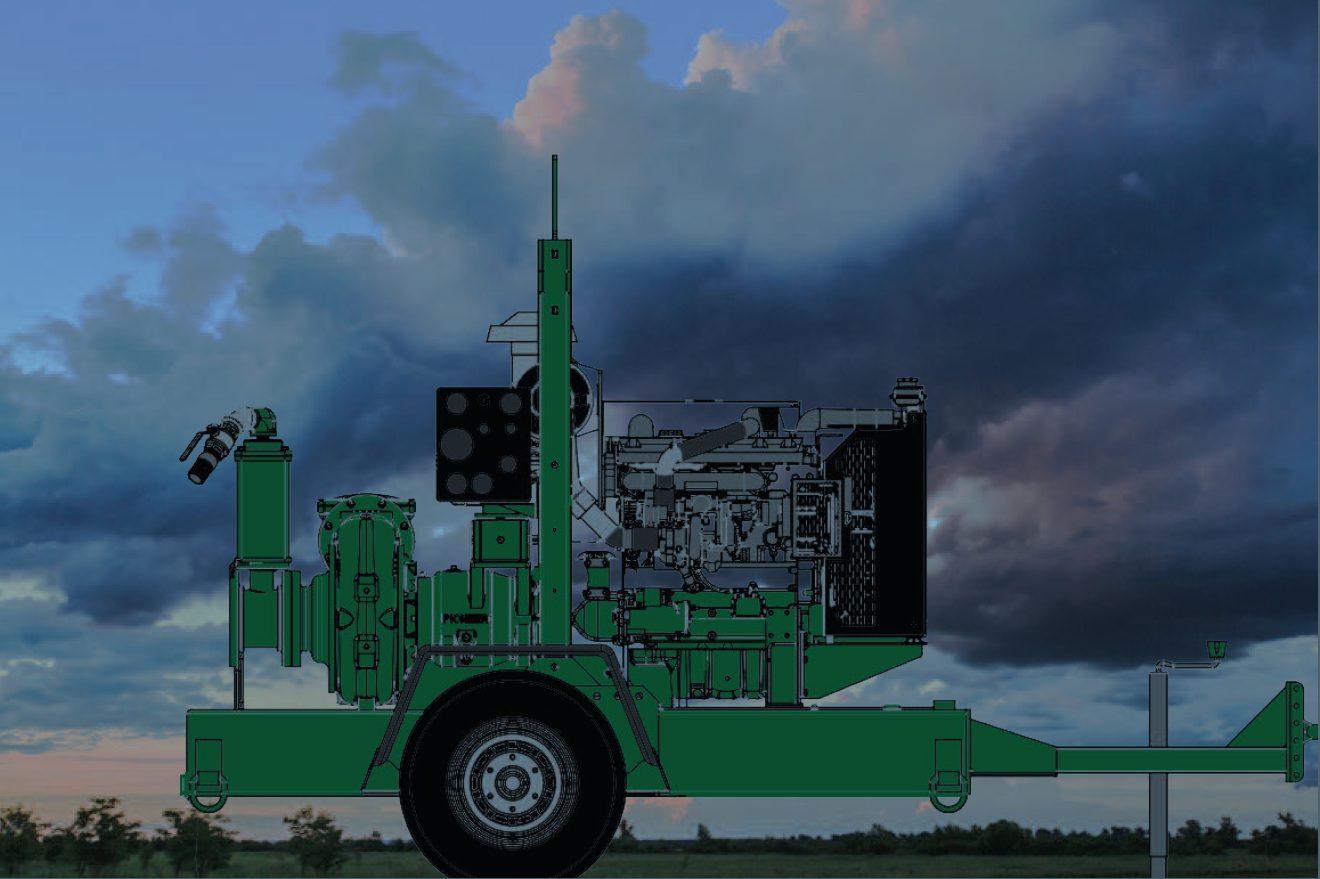 Get the vacuum pump that suits your job best when you rent a 4″ Vacuum-Assisted PP44 from Sage Rental Services. The 4″ Pioneer Prime Vacuum Pump has extreme flow technology and dry-running capabilities, making the removal process smooth and efficient.
| | |
| --- | --- |
| Extreme Flow Technology | Environmentally Safe Priming System with Patented PosiValve™ – No Blow By |
| Indefinite Run-Dry Capability | DOT ready – consult state requirements for details |
Size
4" x 4" Class 150 ANSI Flanges
Flow, max @1800 RPM
1500 US GPM
Head, max @1800 RPM
120ft
Solids Handling
3″
Shaft
17-4 PH Stainless Steel
Impeller
CA6NM
Volute
Ductile Iron ASTM A536 65-45-12
Wear Ring
ASTM A48 Class 40 Gray Iron
Suction Cover
Ductile Iron ASTM A536 65-45-12
Bracket
Ductile Iron ASTM A536 65-45-12
Backplate
Ductile Iron ASTM A536 65-45-12
Priming System
Mechanically Driven Diaphragm Style Vacuum Pump
Air Removal Capability
50 CFM
Priming Chamber
Positive sealing air separation PosiValve™ with stainless steel float ball & linkage.
Discharge Check Valve
Swing Style – Cast Iron with Buna-n Disc
Run Dry System
Oil-lubricated mechanical seal allows the pump to run completely dry without damage
Options:
Control Panel
Brakes
Lofa 750 ASC Panel with float controls
Electric or Hydraulic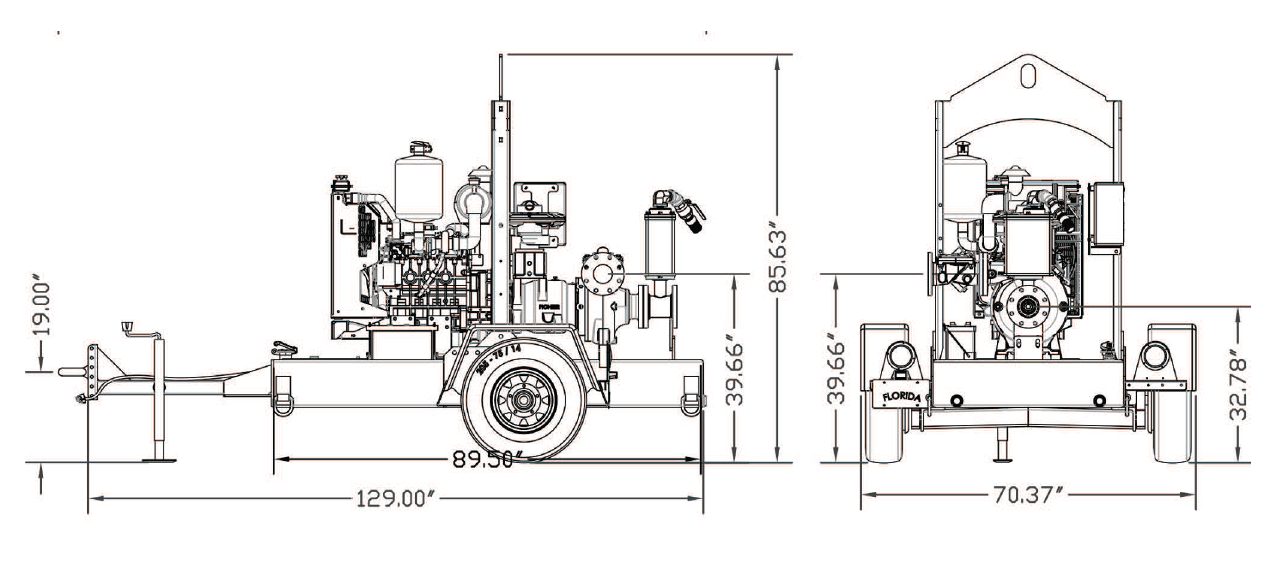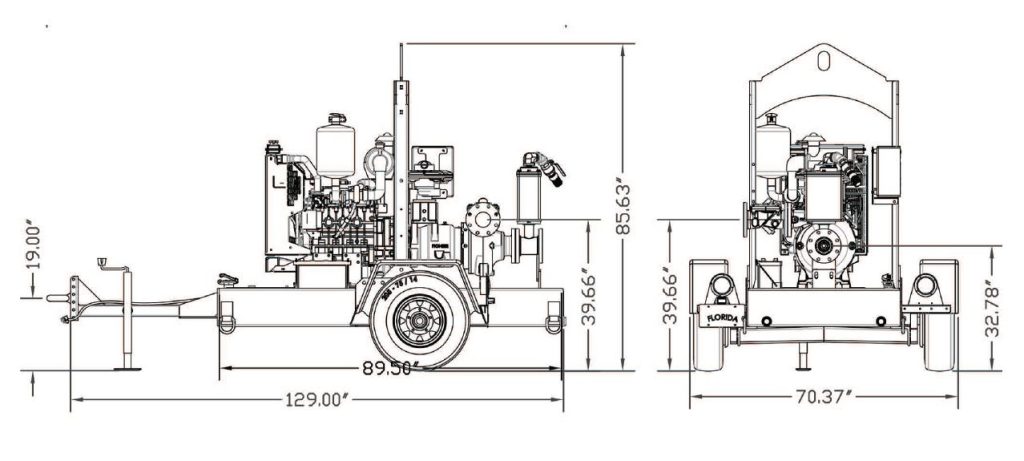 What Is a Vacuum-Assisted Pump?
A vacuum-assisted pump is a device that helps remove liquids and solids. The pump relies on vacuum assistance to remove the materials from your site. Using a vacuum-assisted pump is critical to eliminating gas particles from the pump's sealed areas as the materials move.
The 4″ Pioneer Prime vacuum pump has vacuum assistance and self-priming capabilities to make operations run smoothly. You can use the pump to transfer various materials without worrying about gas getting trapped in the pump.
Vacuum-assisted pumps are excellent devices for various applications, such as:
Mining
Construction
Wastewater processing
Industrial processing

Benefits of 4″ Pioneer Prime Vacuum Pump
Ensure you have a vacuum pump that helps you complete your job. The 4″ vacuum-assisted PP44 offers several benefits, such as:
Environmentally friendly: The 4″ vacuum-assisted PP44 is eco-friendly. It has a safe priming system that uses the patented PosiValve™. The priming valve also prevents product spills.
Flexibility: The pump's run-dry capability makes operating the pump for any application easy. You don't need to prime it with water before using it each time.
Enhanced flow technology: The pump's powerful flow technology helps it move at 1,800 revolutions per minute, making its flow rate reach 1,500 gallons per minute. The vacuum pump can also pass 3-inch solids.

Discover Sage Rental Services in LA, OK, and TX
Whenever you need a 4″ Pioneer Prime vacuum pump rental, come to Sage Rental Services in Texas, Louisiana, or Oklahoma. Our locations in each state are ready to help you get the necessary equipment to finish your projects efficiently and effectively. When you work with our team, we ensure you can rent a 4″ Pioneer Prime vacuum pump that meets your needs.
Trust Sage Rental Services for construction equipment. We have over 40 years of experience serving contractors and companies with excellent tools to help them complete their jobs. Our team provides outstanding customer service, with each member always making sure you find what you're looking for. We're here to help you get high-quality equipment and solutions for your projects.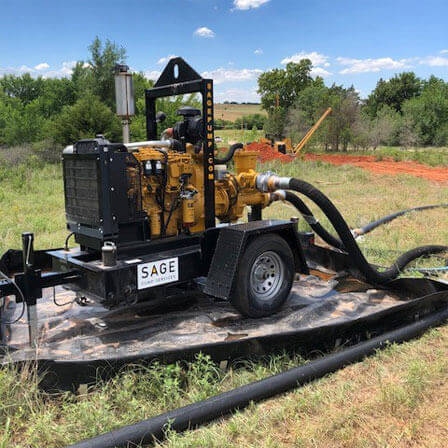 Rent PP44S10L71 Pump Today
Sage Rental Services is here for you and your team whenever you need to find a 4″ vacuum-assisted PP44 rental. Our teams are waiting to assist you in discovering the highest-quality rental tools and equipment. Before you receive the equipment, we ensure each device performs correctly, so you get a device without defects.
Find a location near you to rent a PP44S10L71 pump from us. If you have any questions or want to learn more about our equipment rentals, feel free to contact one of our representatives through our online contact form. We'll help you find what you're looking for and conduct a smooth rental process.