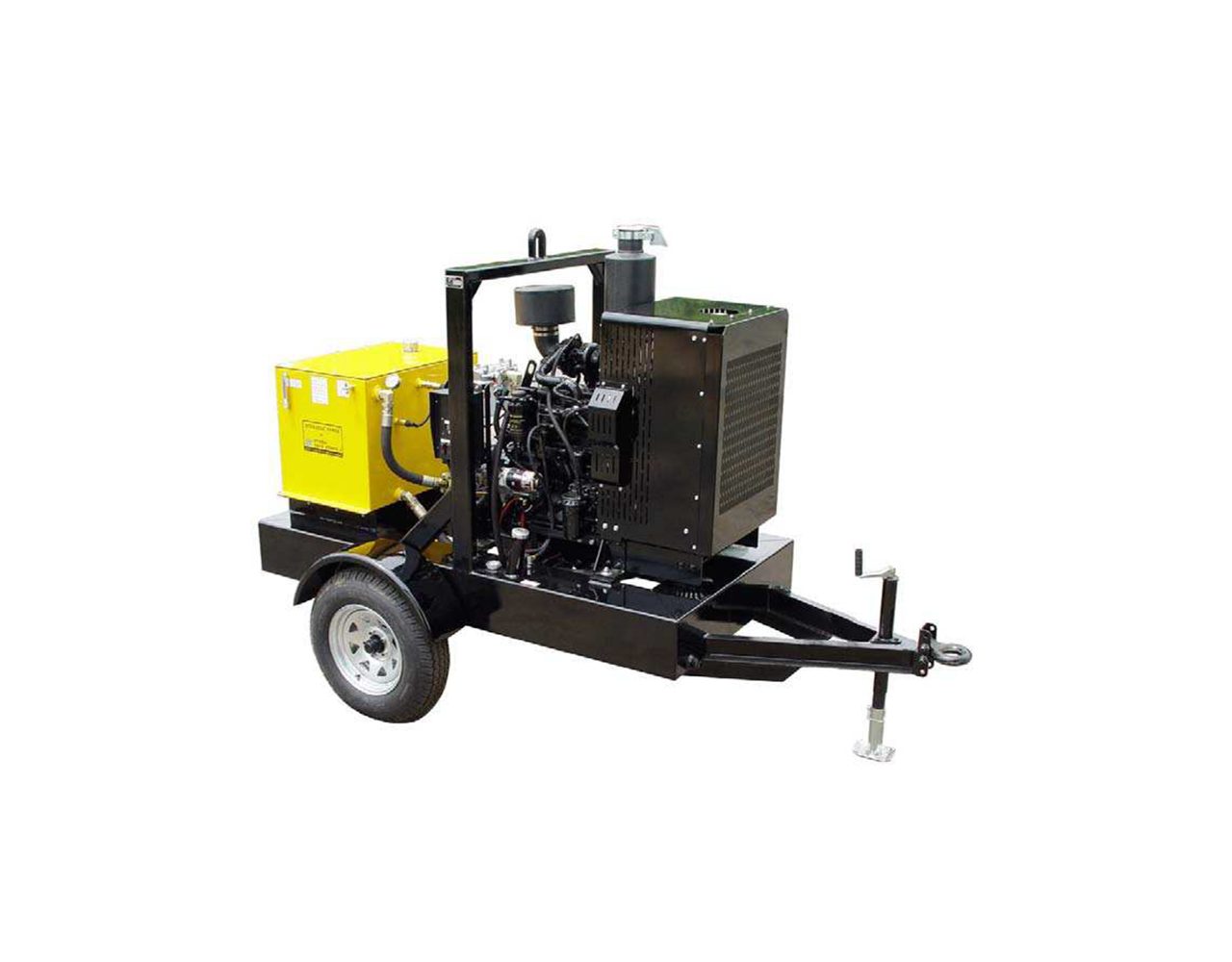 Ensure there's enough power to keep pumps running at your job site by using a 150 HP Hydraulic Submersible Power Unit rental from Sage Rental Services. The power unit performs with a max 58 GPM hydraulic output and a horsepower of 99 at 2,200 RPM.
*Unit shown with optional trailer
Skid Frame Chassis with built-in Extended-Run Fuel Tank and Fork-Lift Slots
Single Point Lifting Bracket and Tie Downs for Transport
Dual Spin-On Return Filter w/Indicator
Liquid Filled Pressure Gauge
Automatic Engine Safety Shutdown
Tank Top Filler/ Strainer
Variable Volume Piston Hydraulic Pump
System Relief Valve
Variable Speed Control
Fluid Level/ Temperature Gauge
Efficient Hydraulic Oil Cooler
Made in USA
Options:
Highway Trailer with Independent Suspension
D.O.T. Brakes and Lights
Multiple Hydraulic Circuits
Other Flow and Pressure Combinations
Float Switch Operation
| | |
| --- | --- |
| Engine: | John Deere 4045TF285 |
| Horse Power: | 99 @ 2200 RPM |
| Hydraulic Output*: | Variable Max 58 GPM (106 LPM) |
| Operating Pressure*: | Maximum 2500 PSI (170 Bar) |
| Hose Port Size: | 1 1/4" NPT |
| Hydraulic Oil: | SAE 10W or 20W Type AW Also: Biodegradable Oil (Consult Factory) |
| Oil Filtration: | 10 Micron (Standard) |
| Oil Reservoir Capacity: | 75 U.S. Gallons (284 Liters) |
| Fuel Tank Capacity: | 88 U.S. Gallons (333 Liters) |
| Fuel Consumption: | Approximately 6 U.S. Gal/Hr (23 Liters/Hr) |
| Weight (Dry): | 2800 lbs. (1268 kg) |
| *For Flows and Pressures Other Than Standard, Consult Factory | Since we are constantly working to improve our products, specifications are subject to change without notice. |
What Is a Hydraulic Submersible Power Unit?
A hydraulic submersible power unit supplies enough power for various equipment, such as cylinders, motors, submersible pumps, and machine tools. The hydraulic system provides constant force and torque regardless of any change in speed.
Hydraulic submersible power units are excellent power sources, regardless of the job you're working on. You can use the hydraulic submersible power unit in several industries, such as:
Construction
Food processing
Military
Paper
Fishing
We carry various power units to ensure you get one that meets your job's needs, such as 150 HP John Deere diesel hydraulic power unit rentals.
Benefits of a Hydraulic Submersible Power Unit
Any hydraulic submersible power unit ensures you receive the energy required to finish everything at your work site. It's crucial to understand what a hydraulic power system can do. It offers many benefits, including:
Variable speed and volume control: You can easily change the hydraulic pump's speed and volume to ensure it runs according to your preferences.
Easy maintenance: The power unit has various parts that are easy to replace if broken. With proper maintenance, you can use the machine for a while and ensure it stays in excellent working condition.
Limited noise: The power unit's hydraulic configuration helps minimize noise. Use the unit to provide power for your equipment without worrying about an abundance of distracting noise.

Discover Sage Rental Services Near You
You can count on Sage Rental Services when considering a 150 HP hydraulic submersible power unit rental. We have several locations throughout Oklahoma, Louisiana, and Texas to help you find the power equipment needed to make your worksite more efficient.
We ensure you leave with the best equipment every time you work with our team. You'll receive high-quality machines and tools that operate efficiently for your job.
Trust our team to help you find the tools and equipment necessary for completing your jobs. Each member is an expert on the equipment we supply, so they ensure you find the solution you're looking for.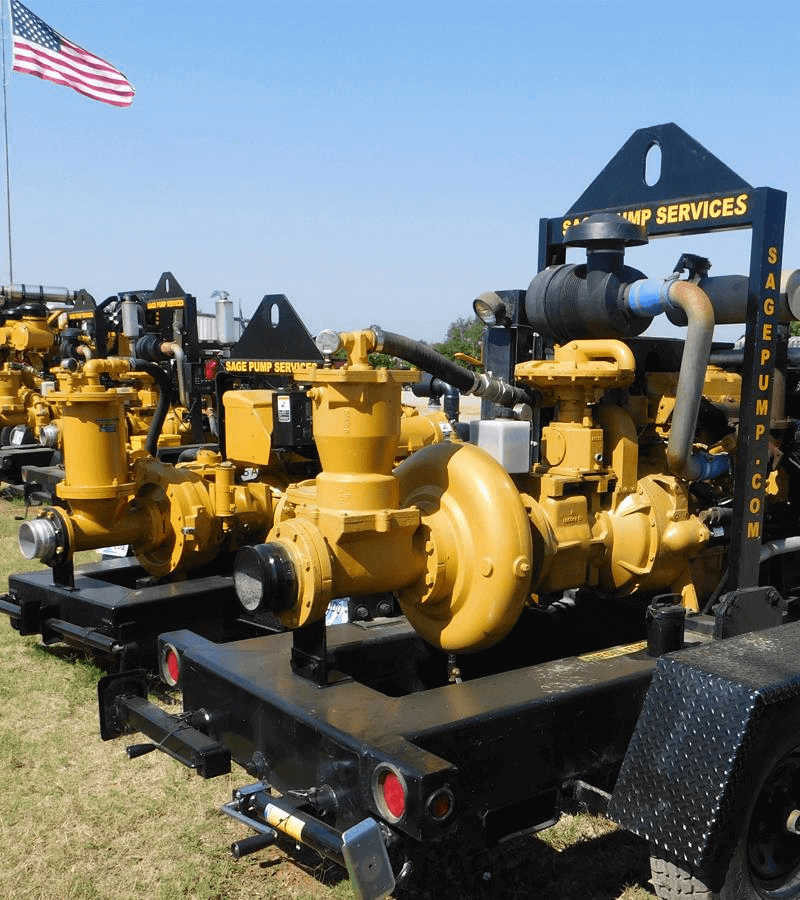 Rent a 150 HP Hydraulic Submersible Power Unit From Sage Rental Services
Rent a 150 HP John Deere diesel hydraulic power unit or 150 HP hydraulic submersible power unit from Sage Rental Services to ensure you get reliable and efficient equipment for your next job. We verify all rental equipment functions correctly before letting clients take them. Our four decades and counting of experience have led us to be a leader in supplying construction equipment rentals.
Work with us to ensure you get everything you need for your worksite. We'll help you rent a 150 HP hydraulic submersible power unit whenever required. Find a location closest to you to get started. Get in touch with a representative by completing our online form to learn more about our products.