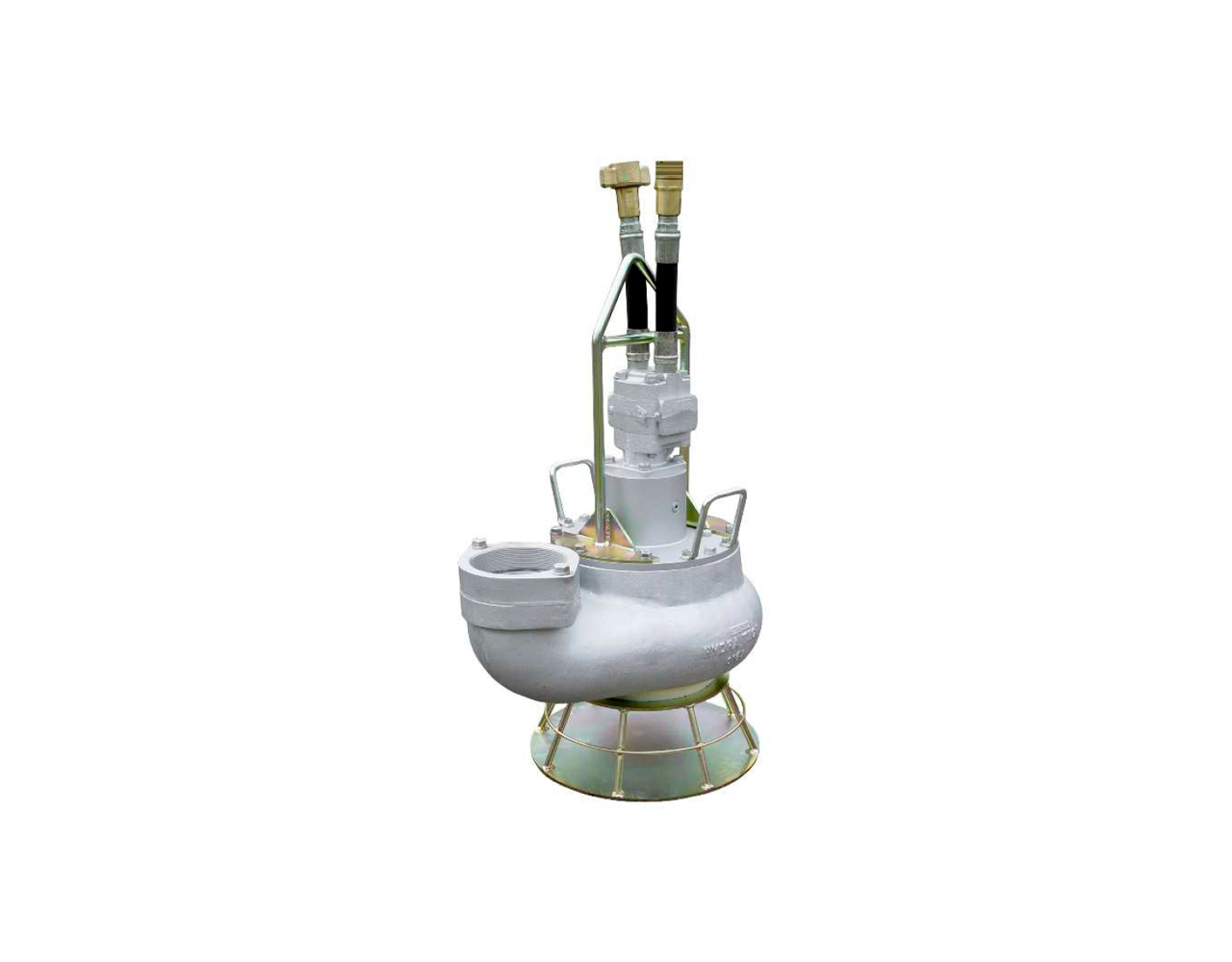 Models: S6T (Aluminum Body),
S6tdi (Ductile Iron Body) & 6" (15cm) Discharge
The S6T is our most popular 6″ Pump. It is lightweight, compact and able to pass large solids, stringy materials and slurries with entrained gases. This versatile, powerful top discharge pump is designed for sewer bypass jobs, digester cleaning, plant intake desilting and inline pumping. Shut off head to 120 feet.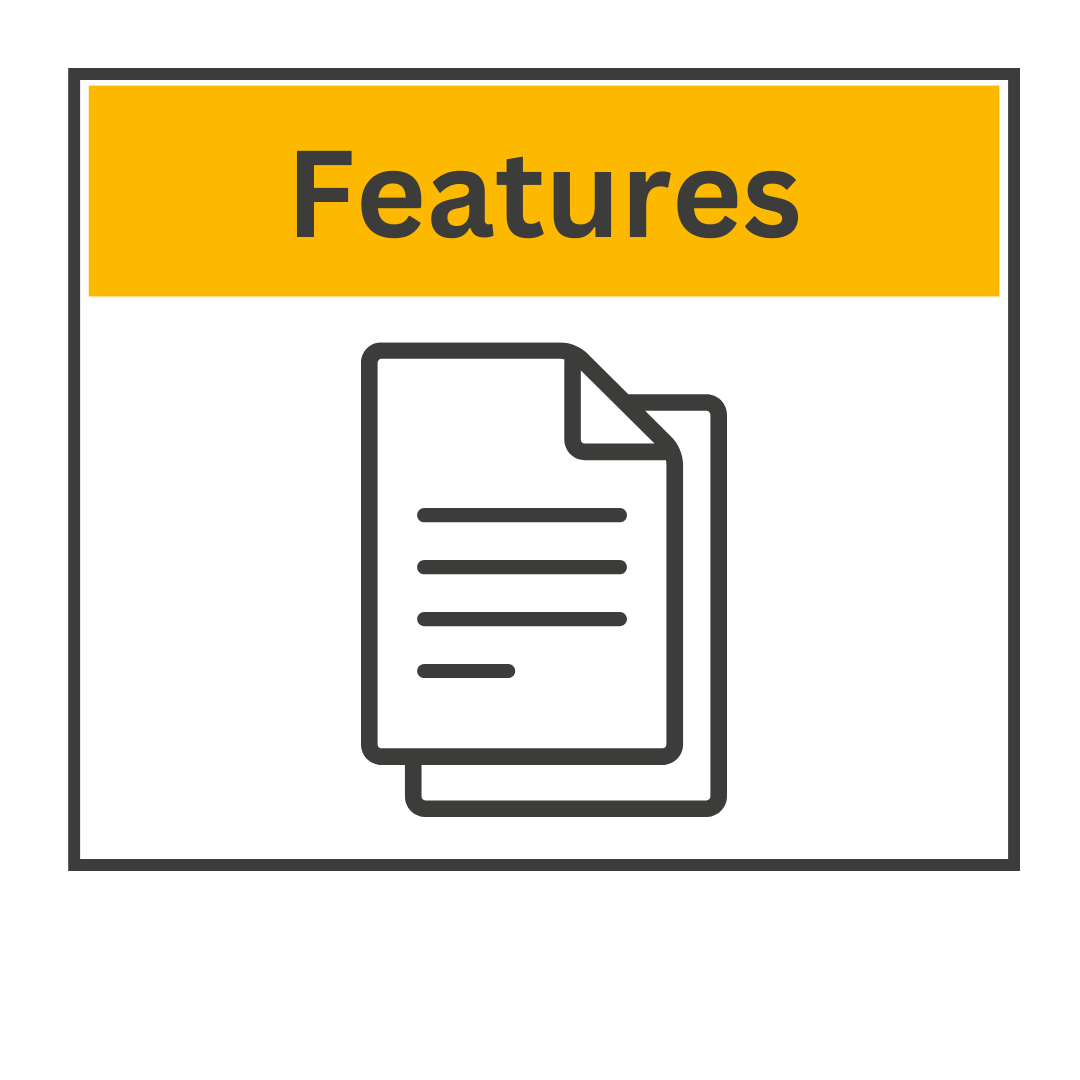 | | |
| --- | --- |
| Fully Recessed SS Vortex Impeller (will pass 5″ semi-solids) | Optional Slit Jetting Ring is Available for Agitating Solids into Suspensions |
| Can be Bolted Directly into a Pipeline or Fitted with a Suction Hose for Underwater Dredging | Operates with our HT50 to HT75 Power Units or other Hydraulic Power Sources Capable of Flows of 15 – 30 GPM |
| Variable Speed Hydraulic Drive Provides a Wide Range of Performance | Tungsten Carbide Wear Parts Available as an Option |
| Can be Bolted Directly into a Pipeline or Used as a Booster Pump | Stainless Steel Model Available |
| Safe Hydraulic Drive can be Used Where Electric Power is Hazardous or Impractical | |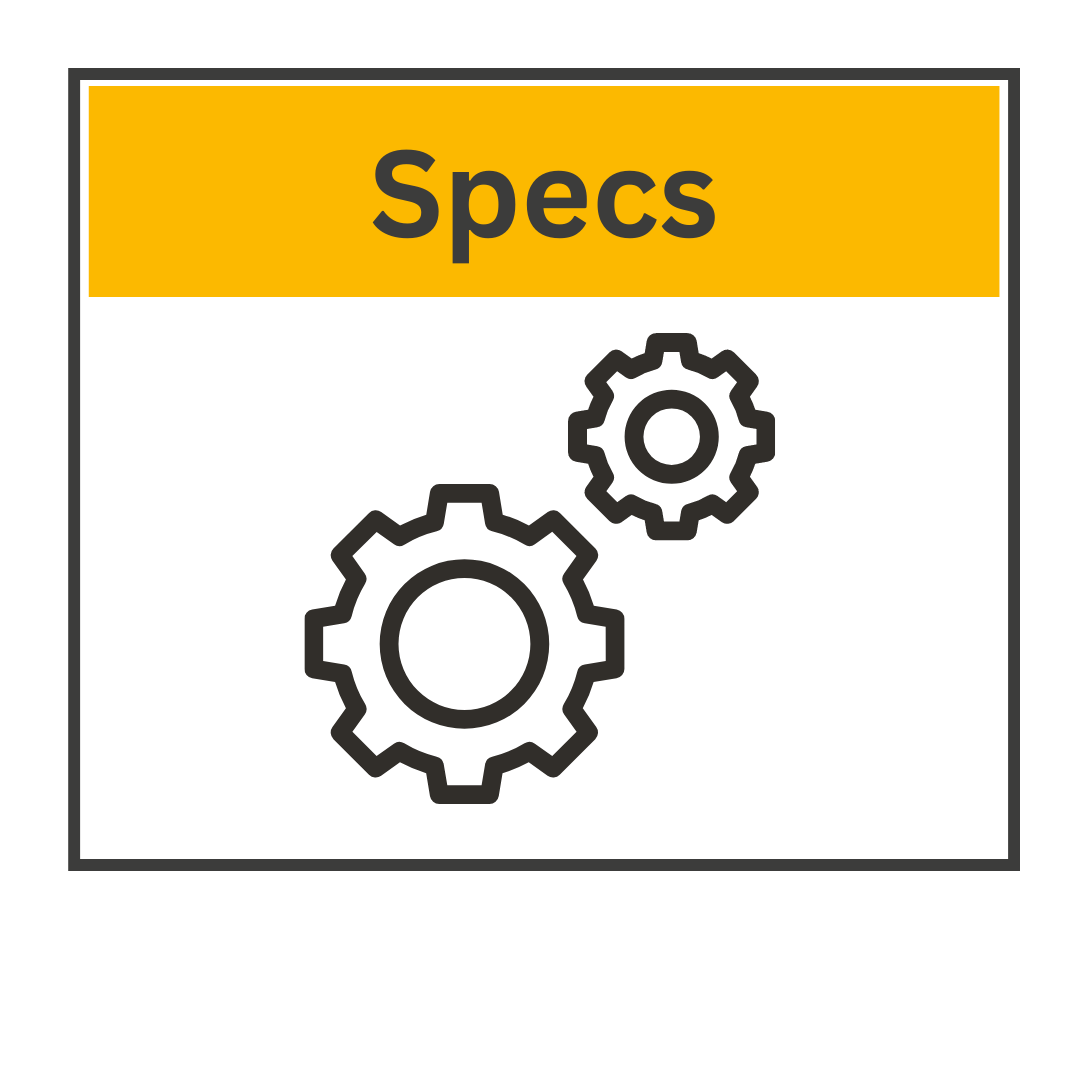 Weight (Aluminum):
Ductile Iron:
202 lbs. (92 kg)
330 lbs. (150 kg)
Height:
38″ (96 cm)
Width (At widest point):
25″ (63 cm)
Discharge:
6″, NPT(F)
Inlet Flange
6″, 125# ASA
Solids Handling w/o Strainer: w/ Strainer:
5″ (13 cm) 2-1/2″ (6cm)
Hose Ports:
1″ (-16) SAE
Pump Body (S6T):
(S6TDI):
Heat Treated Aluminum
Ductile Iron
Impeller:
Stainless Steel
Wear Ring and Wear Plate:
Stainless Steel
Shaft:
Stainless Steel
Shaft Seal:
Carbon/Ceramic (Std)
Silicon Carbide (Optional)
Elastomers:
Buna N (Std)
Hydraulic Oil
214-320 s.s.u. @ 100°F (64°C)
Input Flow:
Max 30 GPM (114 LPM)
Operating Pressure:
Max 3000 PSI (204 Bar)
Power Source:
Any Open Center Hydraulic System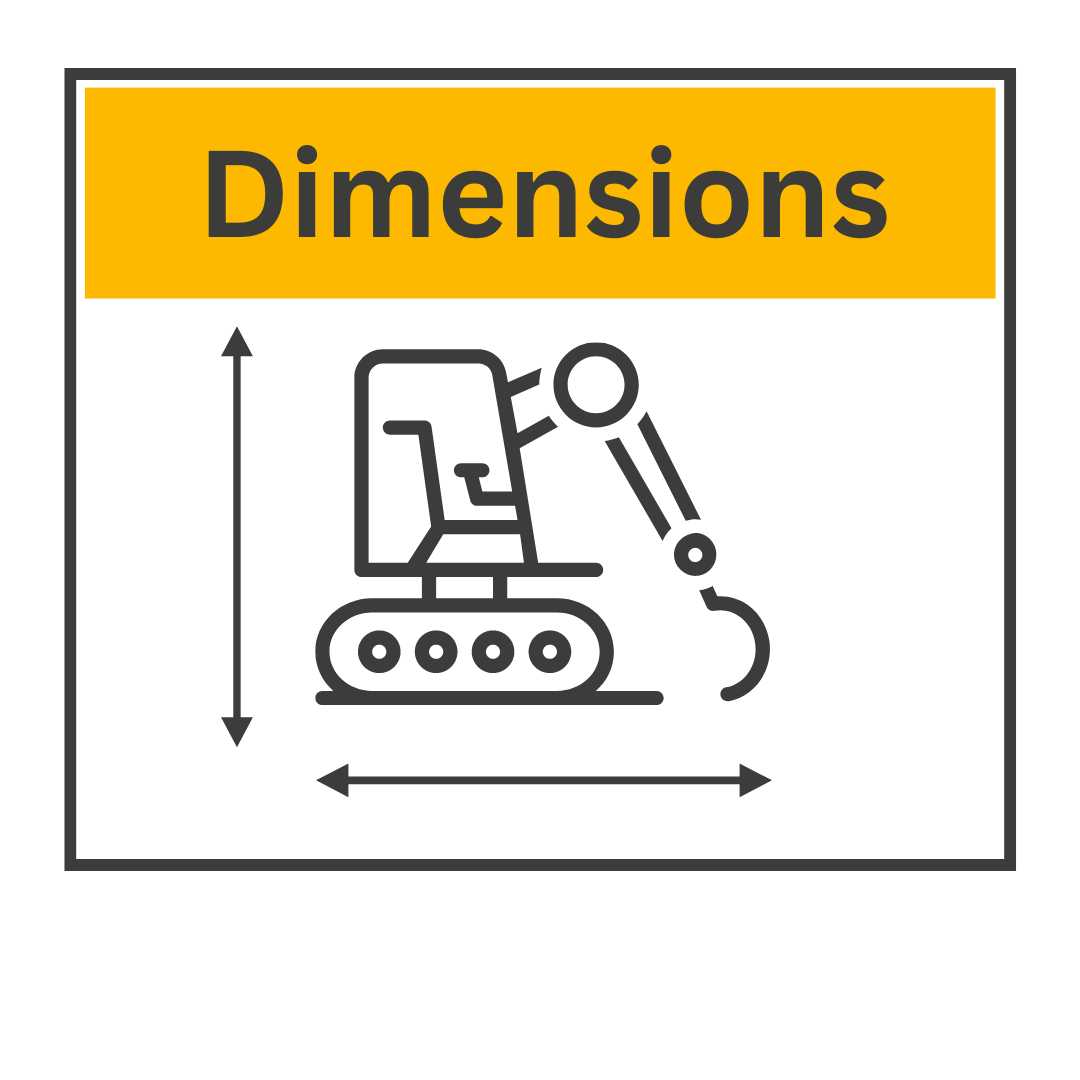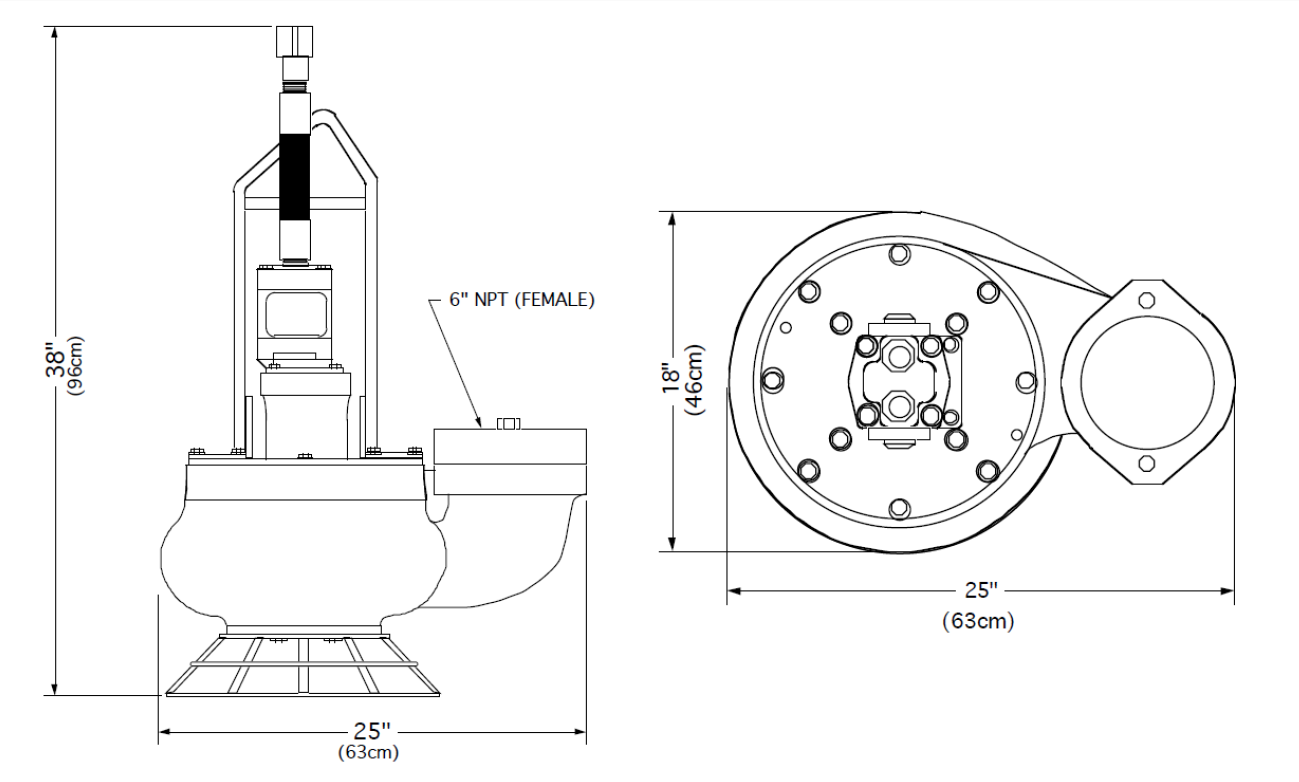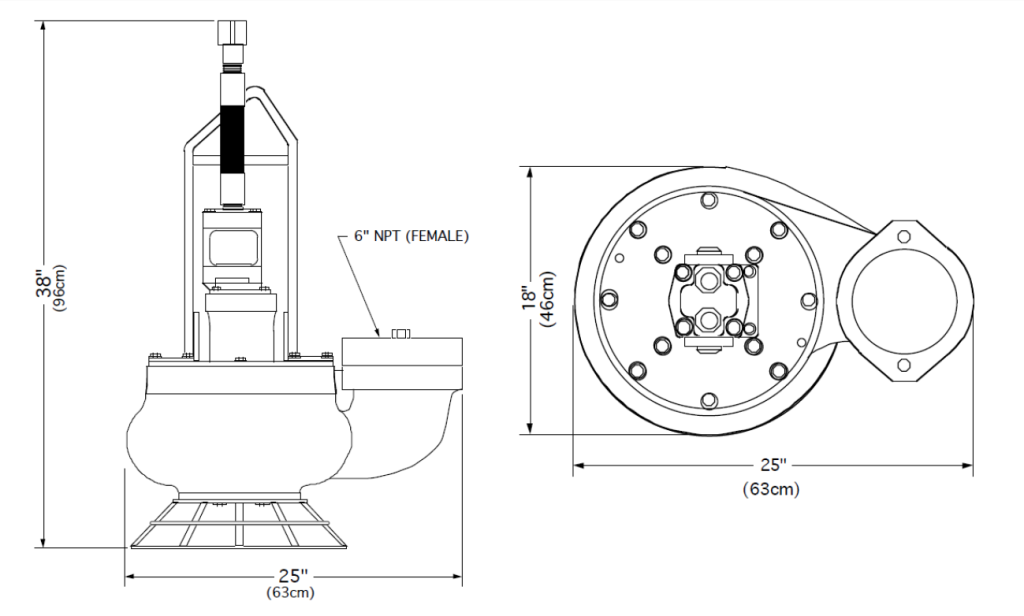 Hydraulic Submersible Pump Rental
Centrifugal pumps generally can't handle the demands of moving heavy solids or achieving suction lifts of over 25 feet, so these circumstances call for hydraulic submersible pumps. Hydraulic pumps consist of a hydraulic power unit, a submersible pump with hose attachments, and a hydraulic oil reserve. This pump option typically runs on diesel or gasoline, making it best for outdoor applications where good ventilation is possible.
Hydraulic pump rentals offer fuel-efficient, hardworking alternatives to similar electric options. Contractors and mining operations working on high lifts can benefit from hydraulic pumps because of their greater suction height. These hydraulic systems can efficiently pump water out of quarries, mines, trenches, and more.
If your project scope requires the maximum amount of suction power, then our hydraulic submersible pumps might be the perfect choice for you. Our selection of hydraulic equipment includes 65-horsepower and 150-horsepower submersible power units with various submersible pump head lengths.
In addition to being more powerful than electric pumps, other benefits of our hydraulic options include:
Versatility: Hydraulic pumps can transport more viscous liquid without clogging the suction pumps or damaging the equipment. This versatility allows hydraulic pumps to process sewage, slurry, and muddy water.
Maintenance: Hydraulic pumps are easy to maintain, as your team can access and service the fueling section even when the pump remains submerged.

Electric Submersible Pump Rentals
Electric submersible pumps provide excellent utility in instances where diesel pumps represent a safety concern or the suction lifts exceed the limits of a centrifugal pump. This submersible pump option is popular in the oil industry and is ideal for well-drilling and irrigation. Electric pumps also allow operation indoors or in places where diesel and other fuel exhausts could cause a safety hazard.
A reliable electric pump rental can lower the cost of operations and improve your overall job site efficiency. Other benefits of electric submersible pumps include:
Noise level: Electric systems are much quieter than hydraulic systems and are better for urban work sites.
Price: Electric systems are less expensive and have lower initial costs. pump rental can lower the cost of operations and improve your overall job site efficiency.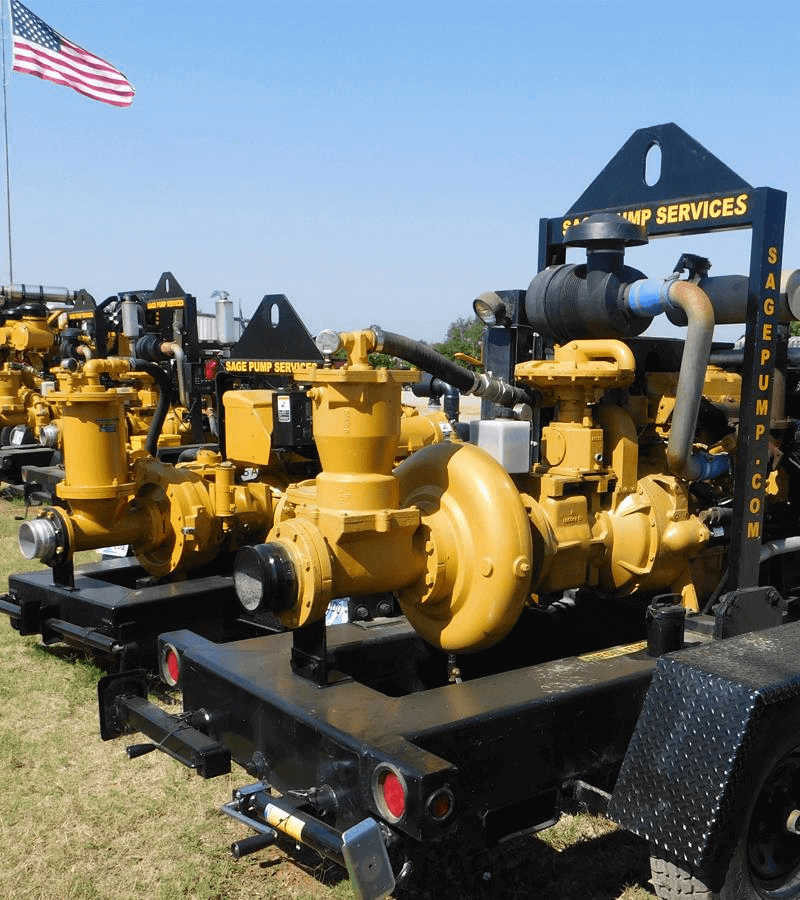 The Best Submersible Pump Solutions for Your Business
Sage Rental Services has you covered whether you need additional equipment for a larger job or a replacement rental submersible pump to fill in for a malfunctioning owned model.
Our certified technicians regularly inspect and service each piece of equipment to ensure your rental is in top working condition. We also offer exceptional customer service, including personalized advice on which submersible pump rental would best suit your company's needs. What's more, our commitment to rental reliability includes 24/7 availability and four-hour rental machine replacements.
If you're searching for the best electric and hydraulic submersible pumps for rent, you've come to the right place. Our knowledgeable team is ready to get you and your contractors dependable, hardworking equipment when you need it most. Contact Sage Rental Services online to learn more about our services or call us at 888-716-7243 with any questions.

GET IN TOUCH
Contact Sage Rentals Today
Get in touch with Sage Rental Services for 24 hour sales, rentals, and support.