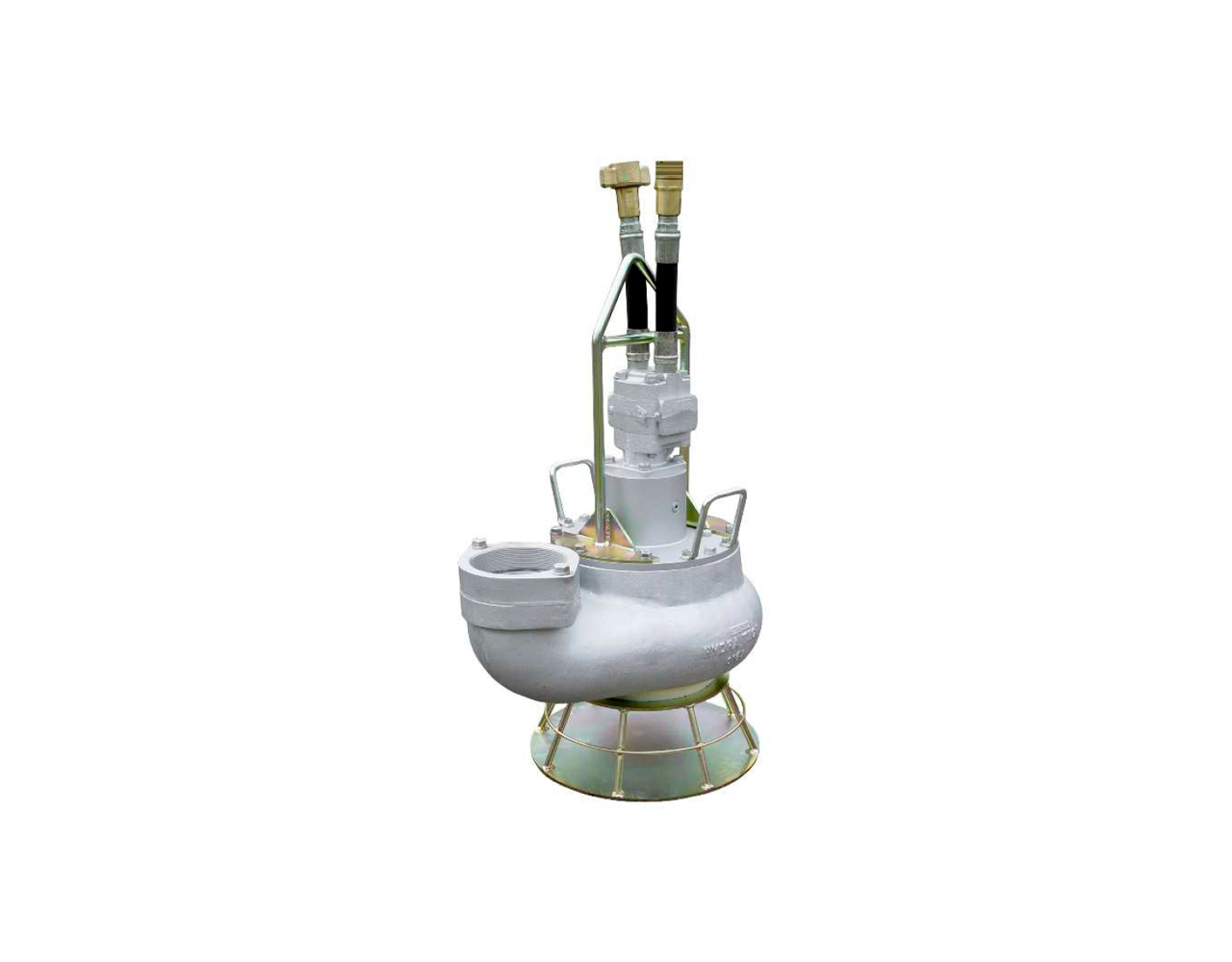 Models: S6T (Aluminum Body),
S6tdi (Ductile Iron Body) & 6" (15cm) Discharge
The S6T is our most popular 6″ Pump. It is lightweight, compact and able to pass large solids, stringy materials and slurries with entrained gases. This versatile, powerful top discharge pump is designed for sewer bypass jobs, digester cleaning, plant intake desilting and inline pumping. Shut off head to 120 feet.
| | |
| --- | --- |
| Fully Recessed SS Vortex Impeller (will pass 5″ semi-solids) | Optional Slit Jetting Ring is Available for Agitating Solids into Suspensions |
| Can be Bolted Directly into a Pipeline or Fitted with a Suction Hose for Underwater Dredging | Operates with our HT50 to HT75 Power Units or other Hydraulic Power Sources Capable of Flows of 15 – 30 GPM |
| Variable Speed Hydraulic Drive Provides a Wide Range of Performance | Tungsten Carbide Wear Parts Available as an Option |
| Can be Bolted Directly into a Pipeline or Used as a Booster Pump | Stainless Steel Model Available |
| Safe Hydraulic Drive can be Used Where Electric Power is Hazardous or Impractical | |
Weight (Aluminum):
Ductile Iron:
202 lbs. (92 kg)
330 lbs. (150 kg)
Height:
38″ (96 cm)
Width (At widest point):
25″ (63 cm)
Discharge:
6″, NPT(F)
Inlet Flange
6″, 125# ASA
Solids Handling w/o Strainer: w/ Strainer:
5″ (13 cm) 2-1/2″ (6cm)
Hose Ports:
1″ (-16) SAE
Pump Body (S6T):
(S6TDI):
Heat Treated Aluminum
Ductile Iron
Impeller:
Stainless Steel
Wear Ring and Wear Plate:
Stainless Steel
Shaft:
Stainless Steel
Shaft Seal:
Carbon/Ceramic (Std)
Silicon Carbide (Optional)
Elastomers:
Buna N (Std)
Hydraulic Oil
214-320 s.s.u. @ 100°F (64°C)
Input Flow:
Max 30 GPM (114 LPM)
Operating Pressure:
Max 3000 PSI (204 Bar)
Power Source:
Any Open Center Hydraulic System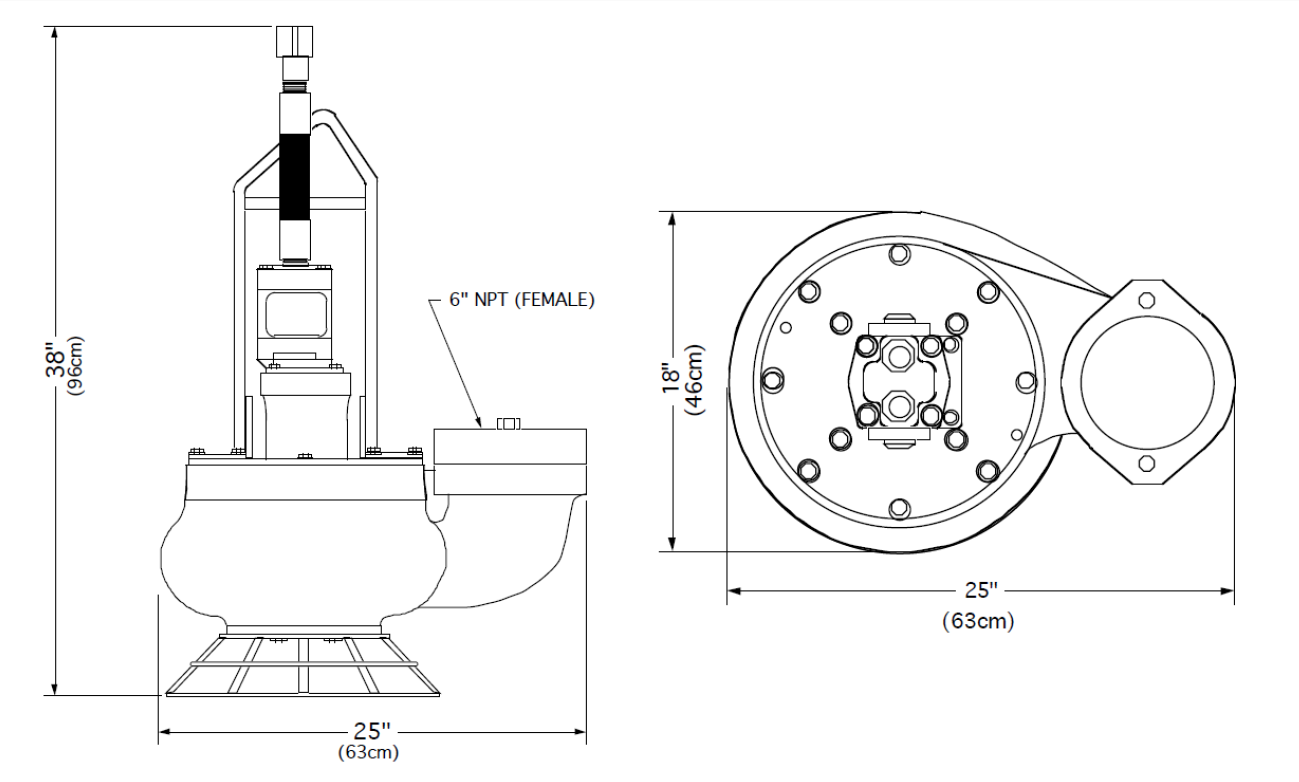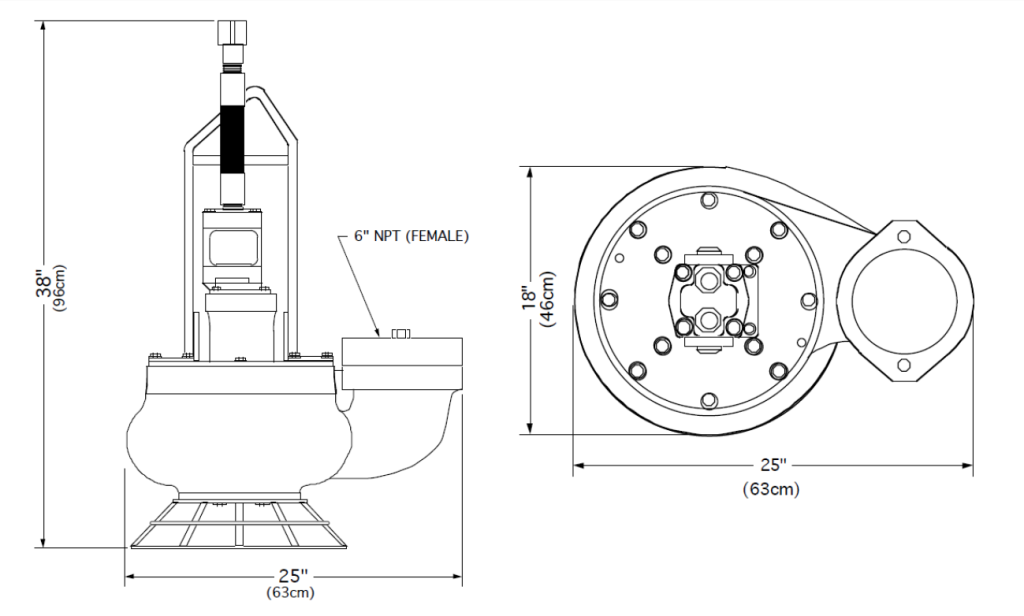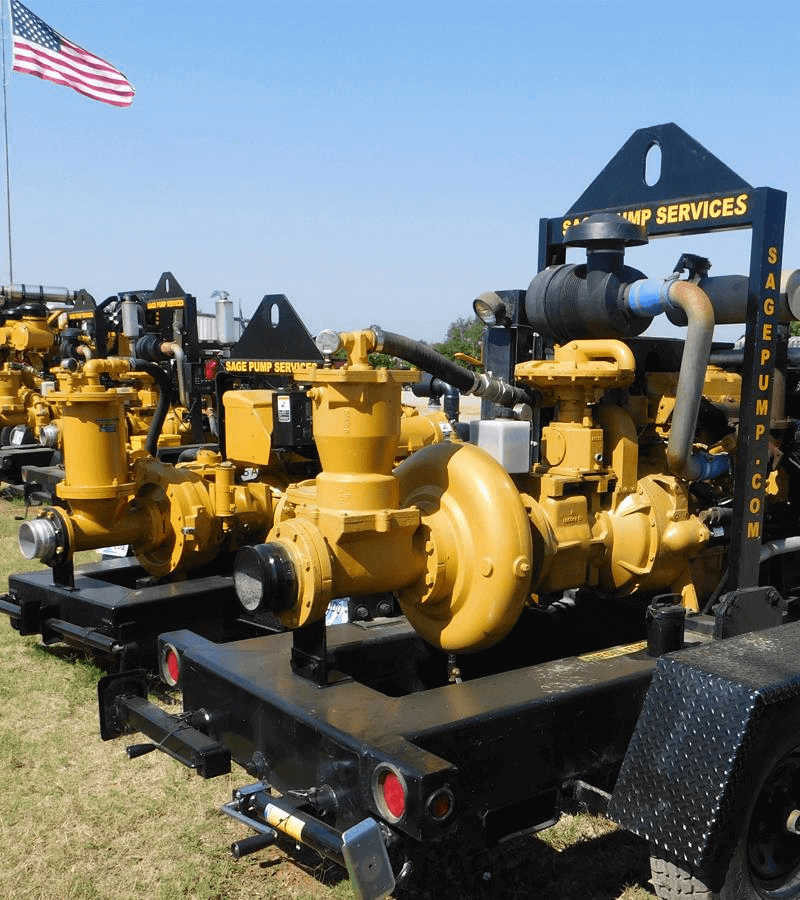 Rent a 6″ Hydraulic Submersible Utility Pump Today
Contact Sage Rental Services online to learn more about our services or call us at 888-716-7243 with any questions.