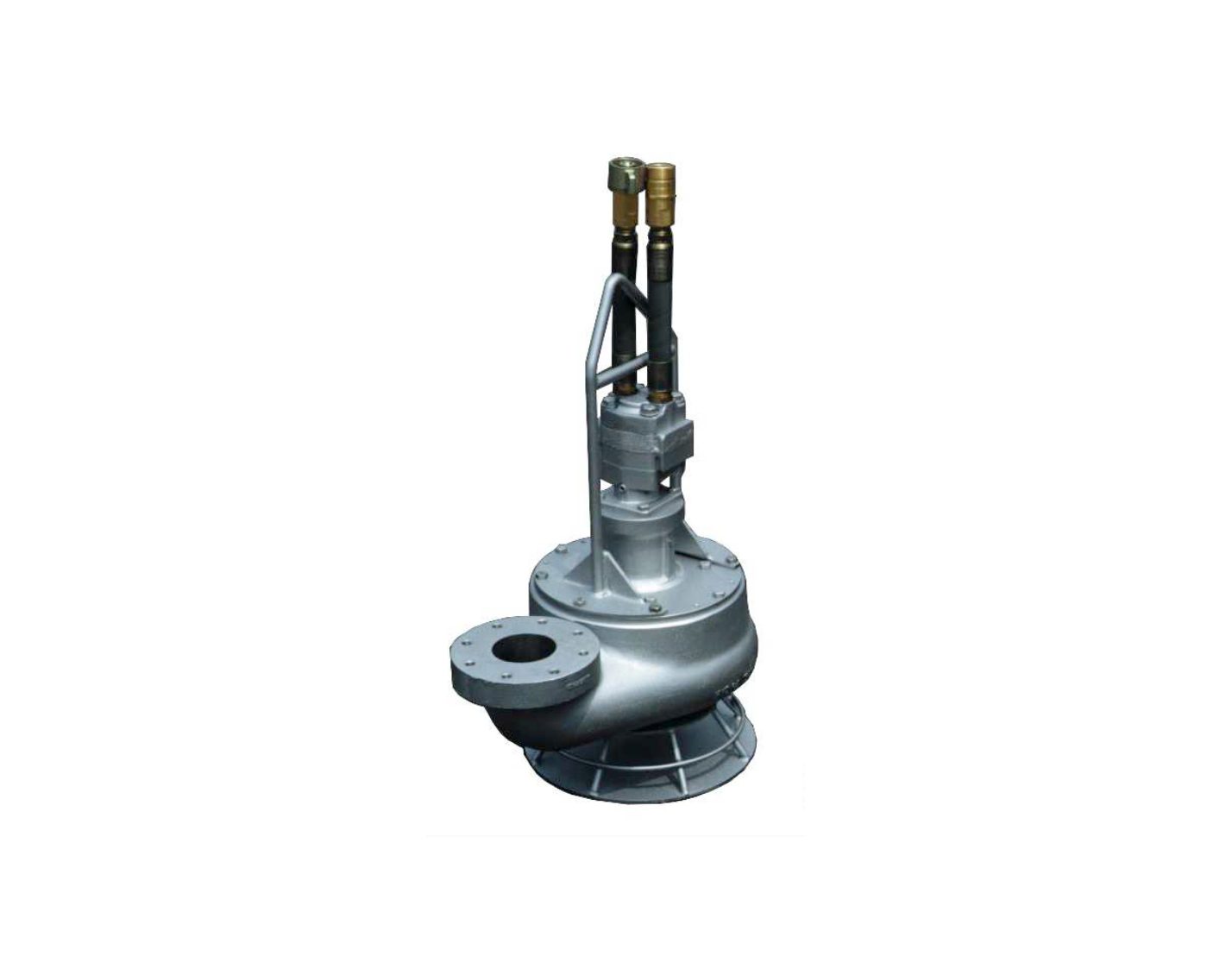 This type of hydraulic submersible trash pump is exceptionally reliable for pumping liquids, waste and transporting water carrying debris and small matter.
4″ Hydraulic Submersible Trash Pump Rental Models
S4THL (aluminum body)
S4THLDI (ductile iron body)
4-inch (100-millimeter) discharge
| | |
| --- | --- |
| SS Wear Ring and Wear Plate | Wide Range of Applications & Performance |
| Operates with our HT50 to HT75 Power Units or other Hydraulic Power Sources Capable of Flows of 15 – 30 GPM | Can be Bolted Directly into a Pipeline or Fitted with a Suction Hose for Underwater Dredging |
| Variable Speed hydraulic drive | Tungsten Carbide Coated |
| Oil Lubricated Seals (can run dry) | Stainless Steel Model Available |
| Fully Recessed SS Vortex Impeller (will pass 3 1/2″ semi-solids) | |
Weight (Aluminum):
(Ductile Iron):
209 lbs. (95 kg)
294 lbs. (133 kg)
Height:
34 1/2″ (88 cm)
Width (At widest point):
25 1/2″ (65 cm)
Discharge:
4″, 125# ASA Flange
Inlet Flange
4″, 125# ASA
Solids Handling:
3 1/2″ (9 cm)
Hose Ports:
1″ (-16) SAE
Pump Body (S4THL): (S4THLDI):
Heat Treated Aluminum Ductile Iron
Impeller:
Stainless Steel
Wear Ring and Wear Plate:
Stainless Steel
Shaft:
Stainless Steel
Shaft Seal:
Carbon/Ceramic (Std) Silicon Carbide (Optional)
Elastomers:
Buna N (Std)
Hydraulic Oil
214-320 s.s.u. @ 100°F (64°C)
Input Flow:
Max 30 GPM (114 LPM)
Operating Pressure:
Max 3000 PSI (204 Bar)
Power Source:
Any Open Center Hydraulic System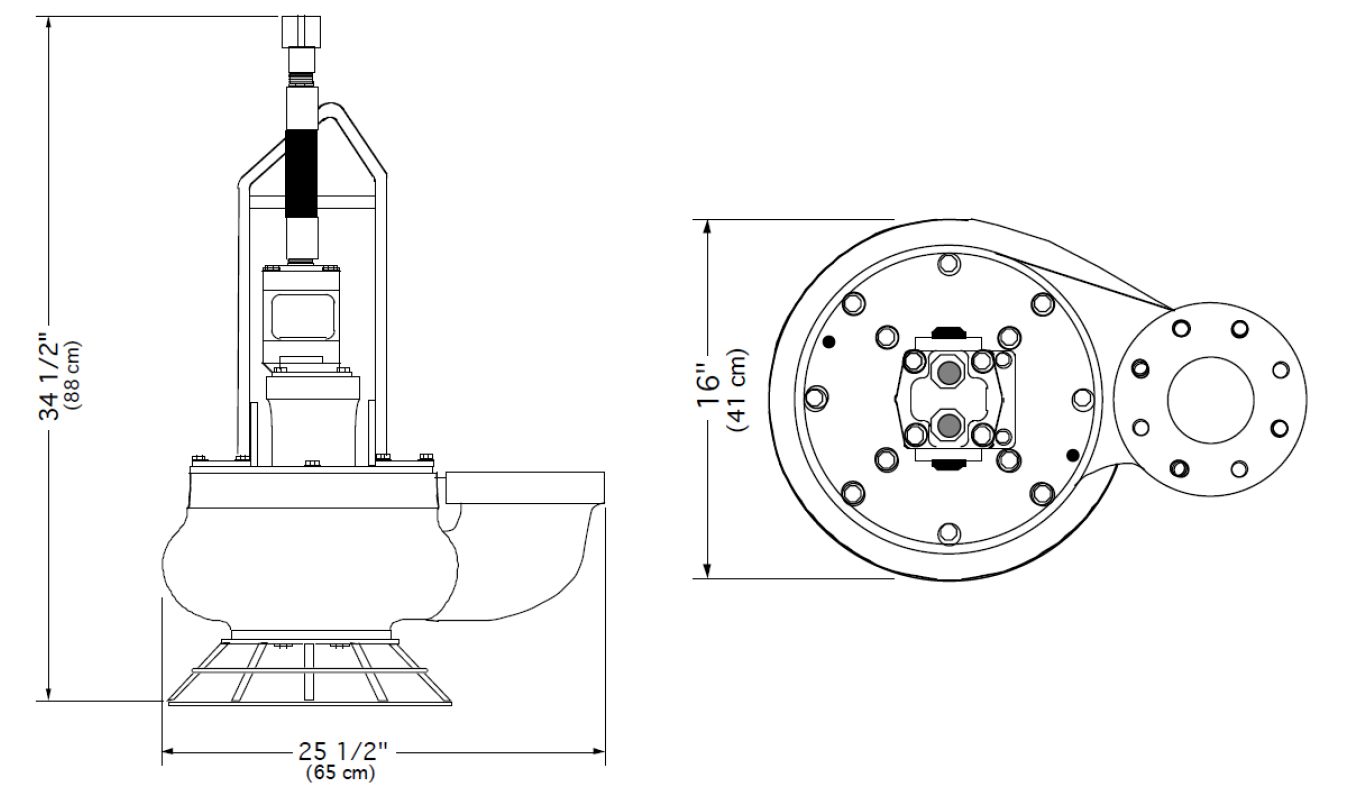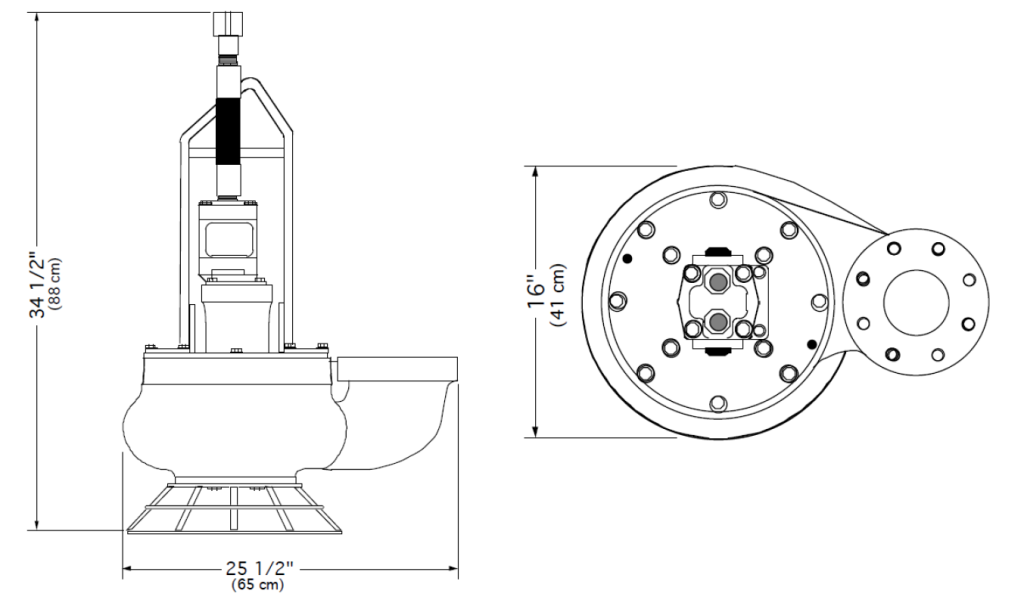 Primary S4THL Uses
Powerful and durable, the S4THL is an excellent sludge pump. Primary uses for this pump are:
Oil refinery wastes
Sewage digester clean-out
Water waste sludge
Desilting applications using divers
This versatile pump offers solids handling and high head capabilities with a shut-off head at 200 feet.
Install a 4-inch hydraulic submersible vortex flow trash pump to make your job easier. Due to its balanced vane hydraulic motor, the pump expels waste efficiently. Its capabilities allow it to pump various materials with less degradation.
What Is a Hydraulic Submersible Vortex Trash Pump?
A hydraulic submersible vortex trash pump dispels waste and transports liquids containing hard and soft solids, such as silt, mud, twigs, leaves and pebbles. Most trash pumps are centrifugal pumps.
Trash pumps are suitable for various jobs and applications. A hydraulic submersible vortex trash pump is ideal for construction site dewatering, draining ditches, creek bypasses, agricultural irrigation, mining operations, sewerage draining and other tasks.

Why Rent a 4″ Hydraulic Submersible Vortex Trash Pump?
A 4-inch hydraulic submersible vortex trash pump rental will bring the following benefits and features to your project:
Versatility: Use the 4-inch hydraulic submersible vortex trash pump for draining sewerage, debris, wastewater, sludge and other viscous fluid with small solids that might be involved in your work.
Safety: Our hydraulic submersible vortex trash pumps work safely, no matter where you use them. Areas where electric power is impractical or presents a hazard are the perfect fit for our diesel-powered pumps.
Compatibility: You can connect the 4-inch hydraulic submersible vortex trash pump to other power units, such as hydraulic models, to ensure it continues to work as long as you need it.
Durability: The hydraulic submersible vortex trash pump is highly durable. It provides reliable and high-pumping power to get the job done properly and efficiently.
Compact design: The hydraulic submersible vortex trash pump's compact design makes it easy to insert, store and transport. It can fit through 34-inch openings and spaces.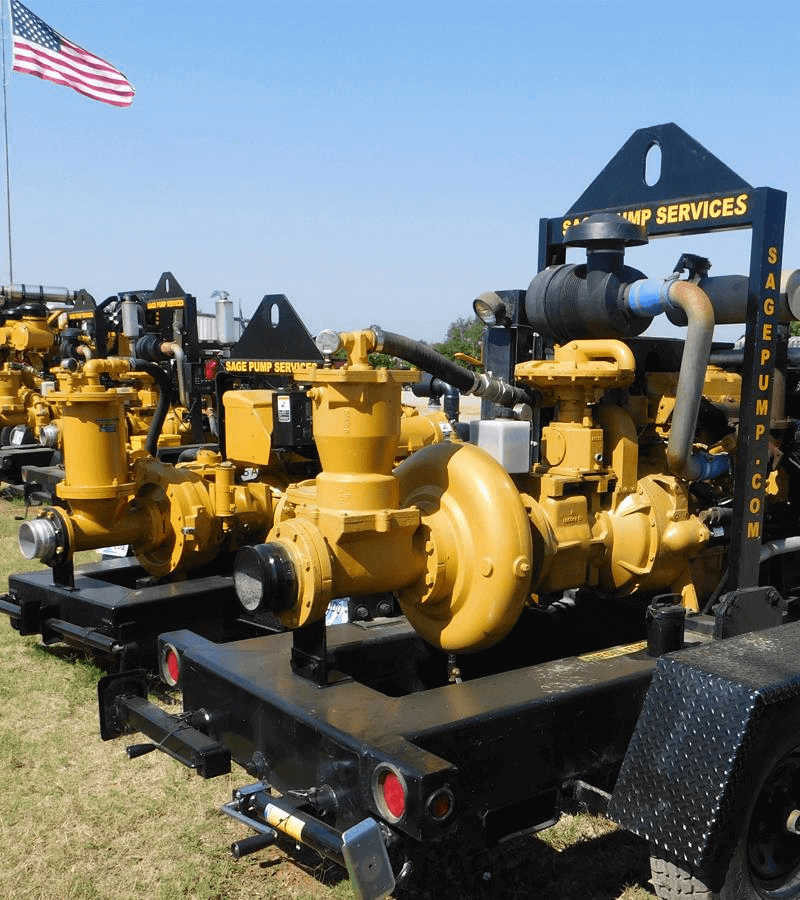 Get the Best Submersible Pump Solutions From Sage Rental Services
Sage Rental Services can offer you the submersible pump rentals you need. Whether you're looking for a replacement to cover a downed unit or additional pumps for a larger job, we can help! Our Vortex Flow Trash Pump 4-inch rental models are kept in pristine condition and will serve you well, regardless of the job.
Simplify your work with the power, versatility and reliability of the 4-inch hydraulic submersible vortex trash pump. If you want the best pump for moving semi-solid and sensitive materials through pipes and sewerage systems, choose this model.
Sage Rental Services offers vortex flow trash pump 4-inch rentals throughout Texas, as well as in Oklahoma City and Shreveport. We are a trusted heavy equipment and pump rental company with the equipment and dedication to provide you with exactly what you need.
Contact Sage Rental Services online to learn more about our services, or call us at 888-716-7243 with any questions.

GET IN TOUCH
Contact Sage Rentals Today
Get in touch with Sage Rental Services for 24 hour sales, rentals, and support.