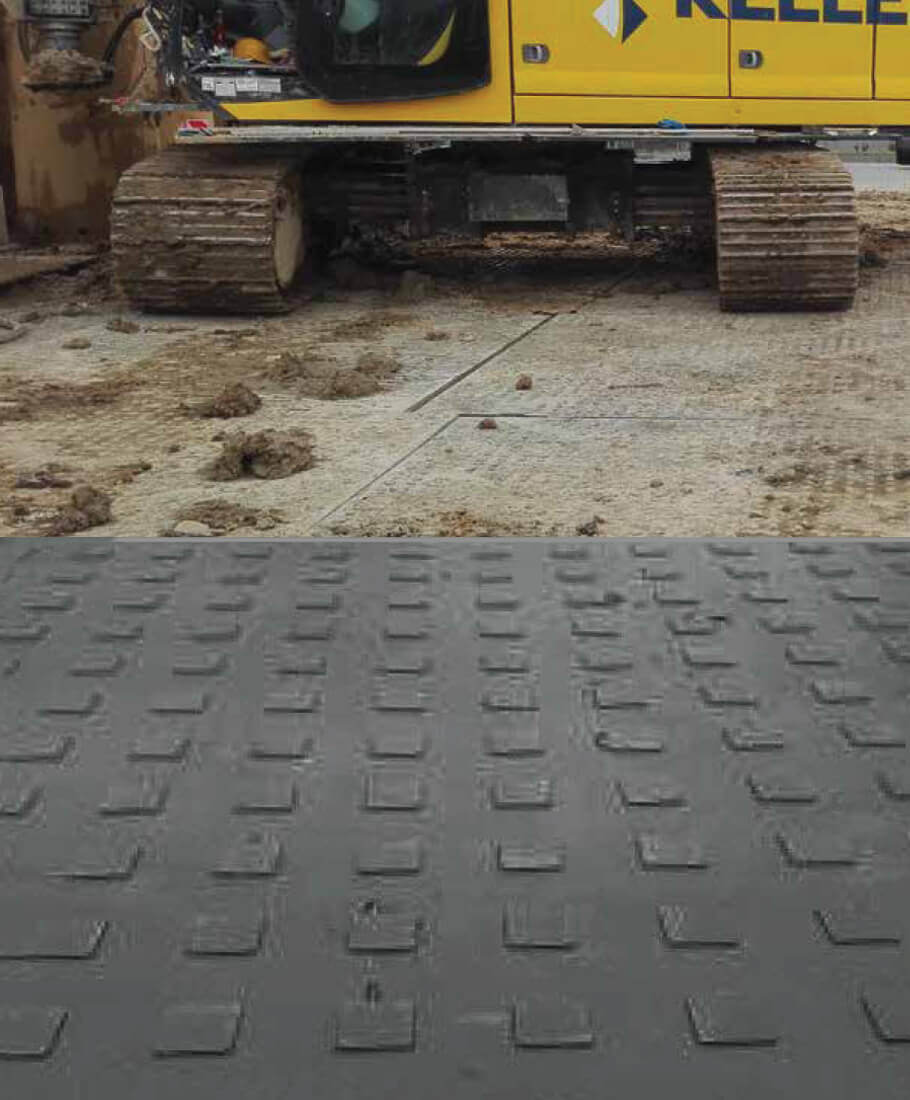 Sage Trench Services offers high-performing, durable composite mats to provide dependable roadway solutions on unstable ground and challenging terrain. These ground protection mats work well to provide steady and even foundations for heavy machinery operations or staging areas for trailers, mobile offices or other equipment. Our composite construction mats are versatile enough to work in various applications, from small residential contracting jobs to more extensive construction projects involving cranes or bulldozers.
Sage Rental Systems Composite Mat Features
Sage Rental Systems composite mat platforms use interlocking designs and secure connection systems to form one continuous surface that prevents separation and drifting under heavy loads on soft ground. The plates create a durable, stable roadway that minimizes the risks of accidents while protecting your employees and equipment.
Our composite mats consist of nontoxic materials that protect vegetation and other sensitive environmental elements of a work area. These mats eliminate cross-contamination between work sites by preventing the transmission of chemicals, oil and mold. Our mats do not degrade, allowing for long-term use and high sustainability.
Composite Mat Rental Applications
Our composite mat systems stack efficiently and are easier to transport than most conventional designs, resulting in lower transportation costs. After each project, they clean easily and are immediately ready for reuse. Installation labor is minimal, with few required tools.
Typical applications for composite mats rentals include:
Safe stands for cranes.
Wind power plant construction.
Road construction and access roads.
Heavy load transportation.
Power line construction.
Open-air concerts and events.
Our composite mats are available in various sizes and materials to suit the specific needs of your application.
Advantages of Renting Composite Crane Mats From Sage Rental Services
Composite crane mats make access to remote job sites easier and are essential to improving work conditions while providing increased levels of safety to your employees. Compared to traditional methods like plywood and other unsustainable materials, these mats offer a minimal impact on the environment and have longer life spans. The materials also provide much more cost-effective shipping and assembly options.
Some other advantages of renting composite mats from Sage Rental Services are:
Superior durability: Our composite mats are among the strongest and most durable on the market. The materials eliminate problems associated with conventional wood solutions like warping, breakage, rotting and insect infestation, allowing for a longer life span. Composite mats also hold up well in extreme weather conditions and high moisture levels.
Enhanced versatility: You can configure our composite mats in both directions, and the wide range of sizes allows them to work for almost any job requirement, large or small. Since they are lighter in weight and size than most hardwood options, they make transportation and shipping more manageable.
Added protection: Despite being more compact and lightweight, composite mats can still withstand significant amounts of weight to provide superior levels of protection and support for the heaviest construction equipment. The surfaces contain patterns that add extra traction for employees and machinery.
Find Composite Mats for Rent Near You Today
At Sage Rental Services, our top priority is helping our clients succeed in the most challenging operating conditions. Our composite mats are another example of the superior products we offer. Call us at (833) 563-1918 , contact us online or find a location near you today to request pricing or learn more about how our composite mats can benefit your operation.

Composite Mats for Rent
Contact Us
If you'd like to learn more or place your order for composite construction mats, give us a call