Slide Rails and Guide Frames
Sage Rental Services offers a multitude of options when it comes to trench slide rails and guide frames. Each of our offerings gives customers secure trenching solutions with flexibility to fit applications of any industry. With the option to rent proper trench safety equipment instead of buying it, companies are able to reduce costs while still ensuring the safety of their team during excavation. Give us a call to find out more about our slide rail and guide frame rentals.
Guide Frames For Rent
These pit guide frames and linear rails offer a pre-engineered alternative to sheet piling, and you can install them in as little as one day. The rails fit into a pre-excavated trench to create a two-, three- or four-sided shored area. Workers can excavate this pit or trench, and the trench guide frames will keep the excavation walls intact. You can install the pit rails in a pit or linear application with obstructions like crossing service lines and utilities.
Sage Rental Services has seven trench guide frame models. All panels are 6 feet high and vary in length from 12 to 40 feet. All models have a depth rating of 20 feet. Some models require a tie back beam to transfer the load on the frame to the ground to keep the guide frame stable.
Single Slide Shoring Rails Rentals
Single slide shoring rails are a modular component trench shoring solution that you can install in as little as one day. The rails use a dig-and-push method to dig the shoring rails into the earth for stability and hold the trench walls back. This method reduces the likelihood of cave-ins and collapses.
Our single slide shoring rail fits in trenches up to 12 feet deep and between 5 1/2 and 22 feet wide. These slide shoring rails are ideal for scenarios with high pipe clearances up to 8 feet. The rail plates slide onto the guide rail, and the rolling struts are movable to accommodate the work site. The cut edge of the plates digs into the soil to keep the structure in place.

Double Slide Shoring Rails Rentals
The double slide shoring rails feature slide rail plates in two guide rails for heavy-duty trench shoring applications. This system uses the lower-and-cut method for installation in unstable soil, and it's easy to dismantle.
The double slide shoring rails available at Sage Rental Services have a maximum trench depth of 25 feet and trench width between 6 1/2 inches and 29 feet. The slide rail height varies between 18 and 25 feet to fit most trench sizes. The pipe clearance is 13 feet to allow room for most service lines.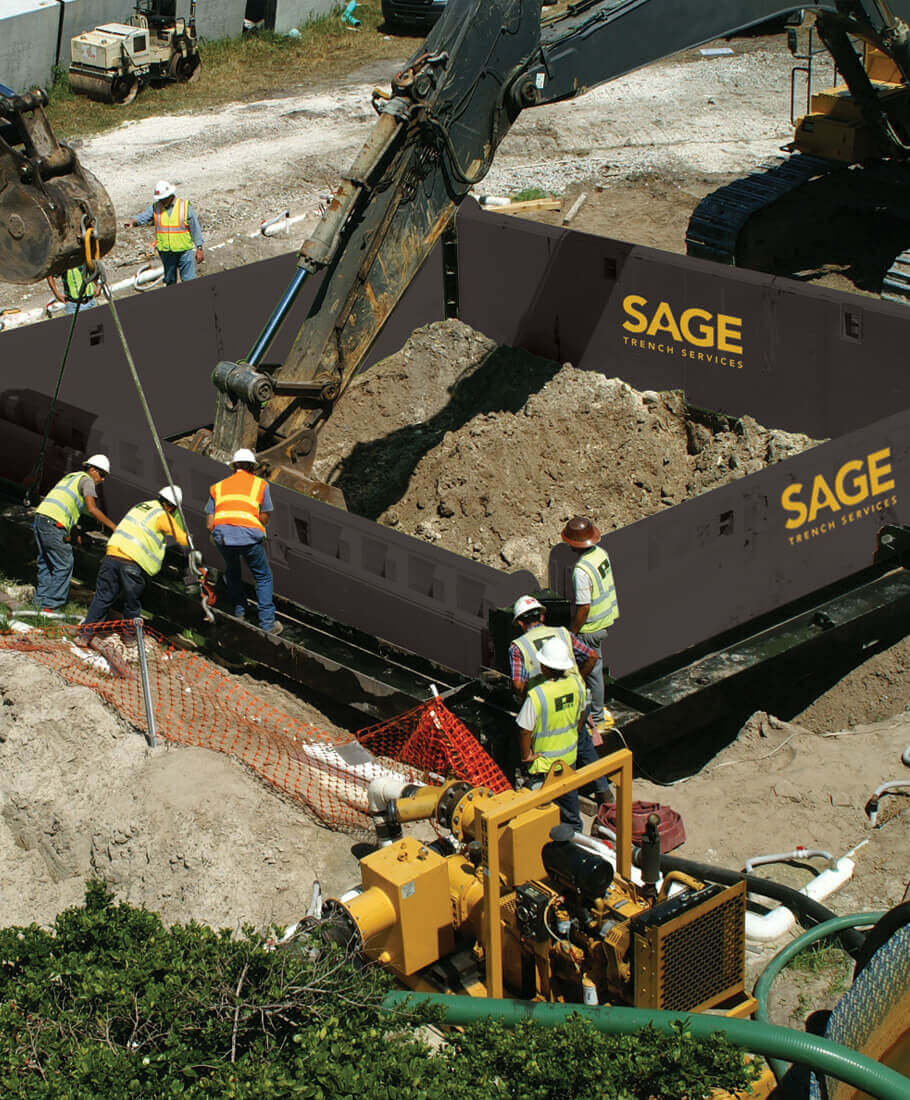 Rent Trench Guide Frames & Slide Rails From Sage Rental
Sage Rental Services has slide shoring rails and other systems to keep your workers safe in trench and excavation projects. We've been providing excellent rental experiences for our customers since 2017.
Learn more about a slide rail and guide frame rental by calling us at 833-563-1918, contacting us online or finding a Sage Rentals location near you.

GET IN TOUCH
Contact Sage Rentals Today
Get in touch with Sage Trench Services for 24 hour sales, rentals, and support.