When looking for safe and dependable trench boxes for rent, turn to Sage Rental Services. We offer a comprehensive range of aluminum and steel trench shields and boxes that meet OSHA requirements to keep excavation workers safe.
Types of Shoring Boxes for Rent
Trench shields — or trench boxes — protect workers from soil collapses as they work inside a trench. Each project will require a trench box best suited to its conditions, including the depth and width of the trench and its soil type. At Sage Rental Services, our shoring box rental fleet includes light, medium and heavy-duty steel trench shields for excavation projects of most sizes and specifications.
Our trench shield/box rental options includes the following:
Steel manhole boxes
Single wall trench shields
Double-wall trench shields
4-, 6- and 8-inch
Double-wall trench shields with cutouts
Aluminum Build-a-Boxes
Octagon Build-a-Boxes
4- and 8-inch aluminum trench shields
What Is the Difference Between Steel and Aluminum Trench Boxes?
Trench boxes come in two different metals — steel and aluminum. The core difference between steel and aluminum trench boxes is their purpose or intended use. Typically, a lightweight aluminum trench box is better suited to smaller, shallower trenches, while heavy-duty steel shoring boxes are suitable for larger and deeper ground excavation projects.
When deciding whether a steel or aluminum trench box is best for the job, check the manufacturer's tabulated data to learn more about its intended use. The tabulated data includes tables, charts and safety instruction information about the product from the manufacturer. The tabulated data will specify the conditions, configurations and depth in which you can use the trench box. Referencing this information is crucial as OSHA does not permit contractors to use a safety system apart from its intended purpose to protect workers.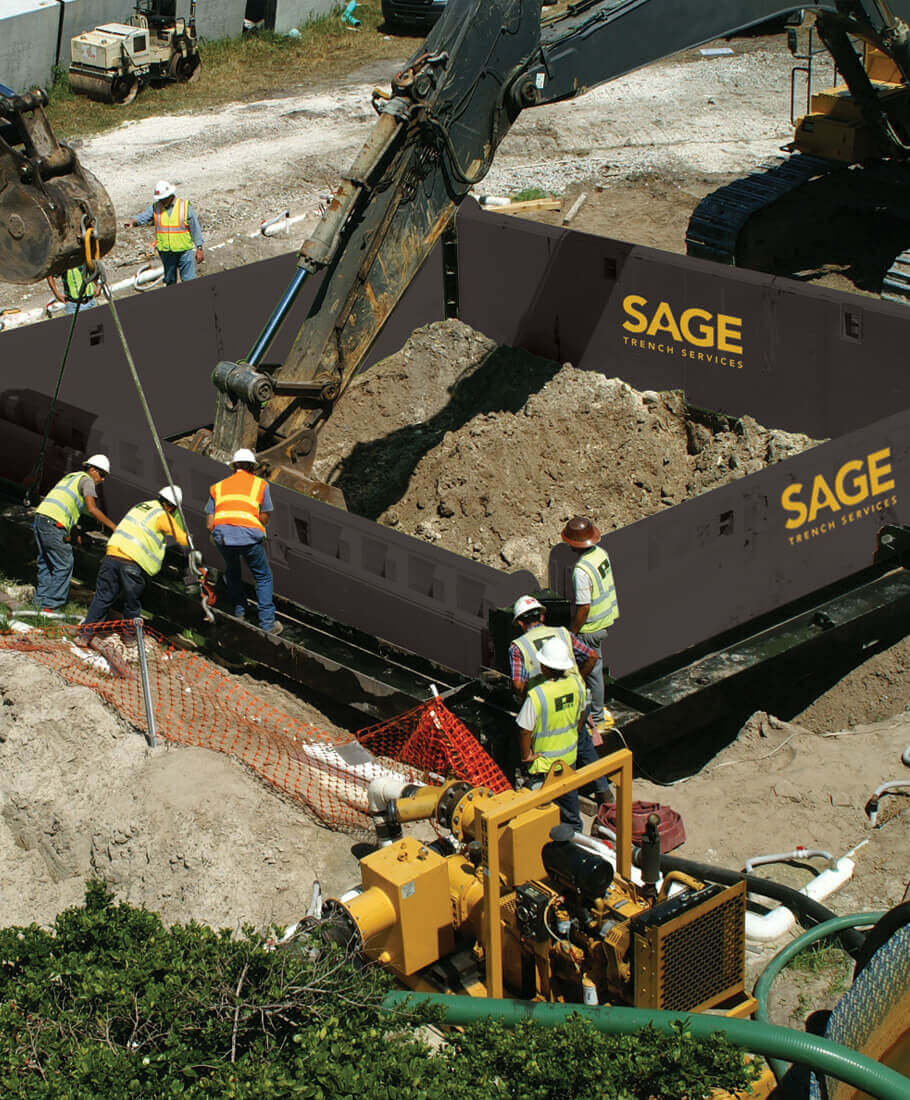 Benefits of Trench Shields
Renting a trench shield is a cost-effective solution for a short-term excavation project. Trench boxes also eliminate the time-consuming hassle of sloping or benching trench walls. Learn more about some of the core benefits of using trench shields:
Worker safety: Shoring boxes are designed with worker safety in mind, providing a safe working environment and the peace of mind workers need to perform well on the job.
Easy installation: Trench shields are compact and lightweight for easy portability and installation.
Stackable: In addition to being easy to install, trench shields are stackable, offering versatility for complex excavation projects. If your trench grows unexpectedly deeper, you can stack the shoring boxes for extra strength and durability.

Find Trench Shoring Rentals Near You
Contact Sage Rental Services
No two excavation projects are the same so we offer a broad range of trench boxes and shields to help you complete the job safely and efficiently.
Not sure which type of trench box rental is best for your application? Our qualified trench shoring services engineers will work with your team to find the safest and most cost-effective solution for your excavation project depending on factors such as soil type and excavation needs.
Contact us today at 888-716-7243 or visit one of our Sage Rental locations to find economical shoring rentals near you.