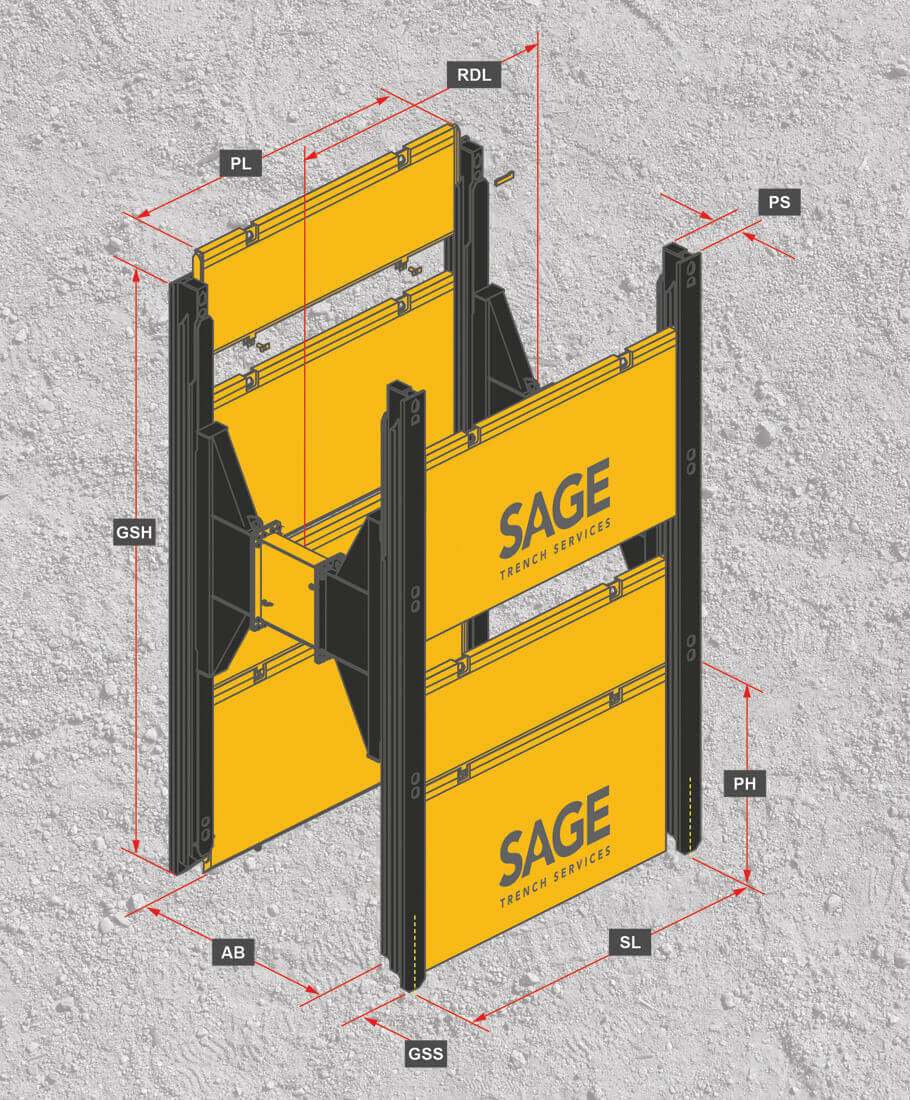 Double Slide Rail Shoring Rentals
Excavation work poses a serious threat to your workers' health and the project's timeline. Having the proper safety equipment is crucial to reduce cave-ins or collapses while keeping your job rolling smoothly.
At Sage Rental Services, we're committed to providing industry professionals with high-quality trench safety equipment for a secure and productive worksite. We maintain a broad inventory of rental double slide rail shoring systems to meet all your heavy-duty needs.
Slide rail plates in two guide rails – for flexible use in several fields
Installation by lower and cut method in unstable soils – easy dismantling
Maximum trench depth: 25 feet
Trench width: 6.5 inch – 29 feet
Pipe clearance height: 13 feet
Advantages of Double Slide Rail Shoring Systems
A double slide rail shoring system is necessary to increase your on-the-job safety in trenches. These flexible tools leverage modular components, including rail plates and two guide rails, to create stable, worry-free working conditions. They seamlessly install into various-sized areas using the lower and cut method, creating a pit system that gradually gets deeper as the excavation continues.
Lightweight double slide rail rentals are useful tools compatible with smaller excavation machines. They preserve site integrity while also helping you:
Increase trench clearance
Minimize repair costs
Improve site adjustability
Reduce labor expenses
Streamline installation and removal processes
Slide Rail Shoring Applications
Double slide rail shoring systems are versatile devices widely used throughout various job sites. At Sage Rental Services, we offer models with maximum trench depths of 25 feet, widths up to 29 feet and pipe clearance heights of 13 feet. Some of the most popular environments utilizing these tools include:
Pump stations
Tank installations
Poor soil conditions
Restricted areas
Bore pits
Sensitive areas
Railroads

Sage Rental Services Is Here for You
If you're looking for a place to rent double slide rail shoring, Sage Rental Services is here to help. We are the industry-leading provider of advanced rail shoring equipment, providing you with the necessary tools to keep your workers safe. Our team supplies underground construction professionals with reliable products and attentive customer services to ensure you have everything you need to succeed.
When you work with Sage Rental Services, you get more than just the latest underground construction equipment. You attain a partner who cares about enhancing your worksite safety while providing meaningful cost savings. We support your operations long after your rental begins with 24/7 support services to decrease downtime and keep your projects on schedule.
Rent Double Side Rail Shoring From Sage Rental Services
Equip your job site with the latest and greatest double slide rail shoring from Sage Rental Services. Our team works tirelessly to stock multiple rental locations with dependable tools that transform your site into an efficient and dynamic environment. Our experts value honest and responsive communication, ensuring you have convenient access to the knowledge and support you need.
Reach out to us online to learn more about our double slide rail shoring rentals today.

Get In Touch
Contact Us
If you'd like to learn more or place your order, give us a call