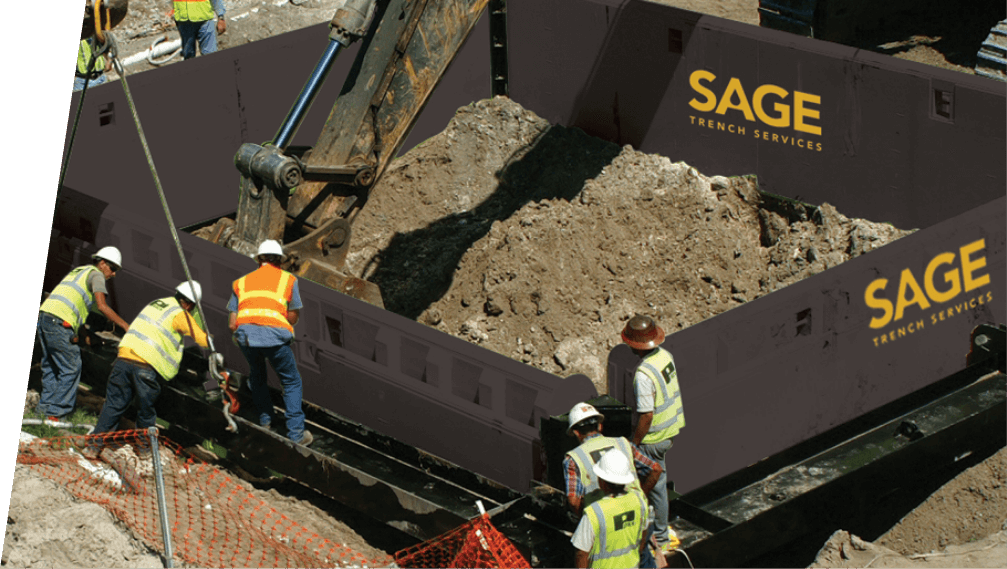 Trench Safety Rentals from Sage Rental Services
At Sage Rental Services, we provide professionals in the industrial, construction and mining industries with reliable trench safety equipment for projects big and small. Whether you're excavating the ground for a new home, a sewage system or underground utilities, we have the trench safety rentals you need for any project — no matter the depth, breadth or soil type.
Our rental inventory includes only the highest quality and competitively priced trench safety equipment on the market — and it's available 24/7. We'll help you find what you need and get it to you quickly. Our specialists and engineers will also work with you to determine the best solution for your project and provide worker safety training to ensure a safe, productive work environment. We'll help you set up and break down your rental trench safety equipment for peak efficiency before and after the job.
Trench Shoring Rental Equipment
The excavation project's location, nature and size will determine the size and type of trench safety system you will need. From our quick and easy-to-install aluminum build-a-box systems to our 8-inch heavy-duty steel trench shield, we're confident we'll have the trench safety products you'll need.
Our extensive trench equipment fleet includes lightweight and heavy-duty shoring equipment suitable for any class of soil or excavation depth:
Steel trench shields
Aluminum trench shields
Slide rail/guide frames
Heavy-duty ground protection mats
Trench shield end panels
Hydraulic vertical shores
Sheet piles
Pipe pullers
Pit kits
Rock boxes
Guide frames
Double slide rail shoring
Single slide rail shoring
Shoring platforms with safety gates
Hand guardrails/mesh barriers
Excavation Safety Training
Benefits of Renting Trench Safety Equipment From Us
At Sage Rental Services, our priorities include worker competency, safety and job efficiency:
Safety: Excavation safety is crucial. The Occupational Safety and Health Administration (OSHA) requires contractors to use protective systems for excavation projects. An OSHA-compliant trench safety system will keep workers safe while enhancing job-site efficiency.
Selection: Our vast range of rental trench safety equipment offers the unique solution you need to complete the job. We provide lightweight aluminum trench boxes or build-a-box trench solutions for small to medium-sized projects. For larger projects, we provide heavy-duty trench shields for deep excavations of five feet or more.
Productivity: Safety and productivity go hand in hand. Excavation projects necessitate trained workers who are competent in identifying potential excavation hazards. Our safety training program provides courses in Competent Person Training for Excavation Safety, Fundamentals of Trench Rescue, OSHA 10-Hour Construction and more so your workers are prepared to facilitate a safe and productive work environment.

Have Questions About Trench Safety Equipment Rental Needs
Contact Sage Rentals Today
If you aren't sure which trench safety products are suitable for the job, our engineers will work with you to find the safest and most cost-effective rental equipment solution for your excavation project. Otherwise, shop our full-scale range of trench safety equipment to keep your projects on schedule and within budget.
Contact us today at 888-716-7243 or find and visit a Sage Rental location near you!