Aluminum Trench Shields
Get aluminum trench shields from Sage Rental Services, your trusted rental partner. These trench shields will protect workers from falling and dislodged materials if a wall collapses.
Aluminum trench shields are an excellent choice for small, less intensive projects because they are:
Lightweight: Aluminum trench shielding is half the weight of steel trench shielding.
Easy to move and assemble: Since the aluminum panels are light, they are easier to transport and set up at the job site. Installation requires fewer workers and less time than other shoring solutions.
Stackable: Some aluminum trench shields can be stacked on top of one another.
Aluminum Build-a-Box Trench Shoring
The aluminum build-a-box is a modular, configurable trench shoring option. It has panels, T-slot adaptable corner posts and T slot adapters, so you can set the box up in your desired configuration. Setup options include three-sided post and four-sided post layouts, and the boxes are stackable to reach your desired height. These components are easy to transport to the job site.
Our aluminum trench shoring rental has eight model options to choose from. The height for all options is 2 feet, and the length ranges from 3 to 12 feet. We also have adjustable square spreaders in several sizes.
Aluminum Octagon Build-a-Box
The aluminum octagon trench shoring system has aluminum panels and vertical posts that, when assembled, create a manhole shield in the shape of an octagon. This solution is best for applications that have odd-angled laterals and manhole leads. The octagon build-a-box is easy to install because it fits better around rounded manholes and utility structures.
Our octagon build-a-box panels are 2 feet tall and range from 2 to 5 feet long, making the interior diameter range from 5.08 to 12.3 feet. Without the 2-foot bottom panel, this structure has eight lateral pipe access points.

Aluminum Trench Shield Options
The aluminum trench shield features two aluminum walls braced with steel pipe spreaders to sit down in trenches to brace the walls. Our trench shields are professional engineer-certified and constructed with 6061-T6 aluminum alloy, known for a maximum yield strength higher than many other metals.
Sage Rental Services has two types of trench shields for rent:
– 4-inch aluminum trench shields: This trench shield has 4-inch thick walls and panels up to 10 feet high and 16 feet long. It is stackable to achieve your desired height.
– 8-inch aluminum trench shields: Our 8-inch trench shield features panels up to 8 feet high and 24 feet long. The reinforced cutting edges hold the shield in place to prevent dragging on the bedding.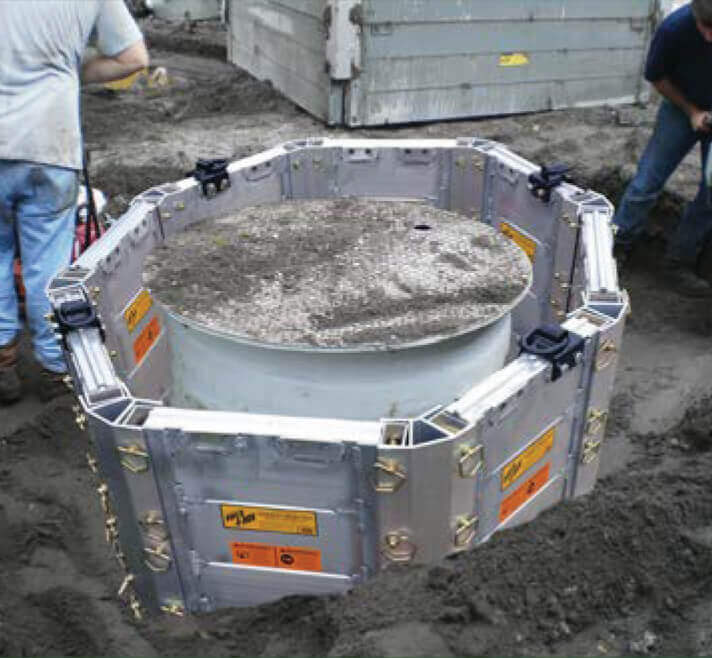 Rent a Custom Aluminum Shoring Box From Sage Rental Services
Sage Rental Services has offered trench shoring rental solutions since 2017. We have valuable partnerships with well-known manufacturers that allow us to provide our customers with the highest quality rental components. We're dedicated to superior service, and we aim to help you improve your productivity and operations with our custom aluminum shoring box options.
Learn more about our aluminum build-a-box and other trench shield rentals by calling 833-563-1918, contacting us online or finding a location near you.

GET IN TOUCH
Contact Sage Rentals Today
Get in touch with Sage Trench Services for 24 hour sales, rentals, and support.