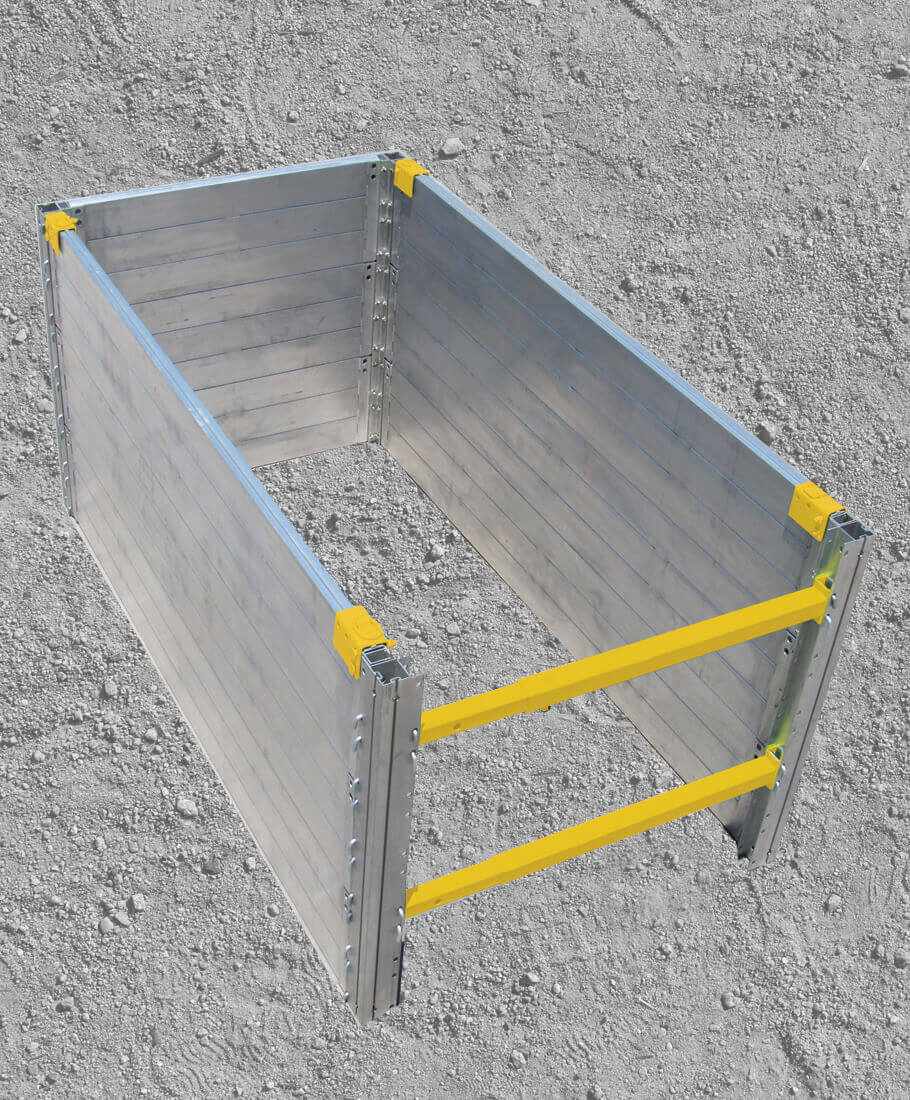 Safety, performance and reliability are top priorities when jobs require crews to work in trenches. Sage Rental Services is your headquarters for Aluminum Build-a-Box rentals that will protect your workers from pressure and weight if a cave-in occurs. Get peace of mind knowing you're doing everything possible to reduce the risk of employee injury and maximize productivity at your job sites.
This innovative trench box system includes numerous features that will add value to your work processes:
One System — many configurations
T slot adapter
Sage T slot adaptable corner post. Increased wall thickness on post tab to reduce pin connection damage.
T slot adapter with elongated pin holes
Elongated slotted pinhole pattern allows for easy assembly on uneven surfaces
T slot adapted for linear application (3-sided post)
T slot adapted for "L" shaped excavation (4-sided post)
4 SIDED BUILD-A-BOX
MODEL
SIZE
WEIGHT
SHIELD CAPACITY
DEPTH RATING
H
L
(lb) (est)
(psf) (lb)
A-25
B-45
C-60
C-80
SGT-CBAS-2X3
1'
3'
53
2586
30'
30'
30'
30'
SGT-CBAS-2X4
2′
4′
66
1940
30′
30′
30′
24′
SGT-CBAS-2X5
2′
5′
79
1552
30′
30′
27′
22′
SGT-CBAS-2X6
2′
6′
91
1296
30′
30′
23′
18′
SGT-CBAS-2X7
2′
7′
104
1108
30′
26′
20′
16′
SGT-CBAS-2X8
2′
8′
117
970
30′
24′
18′
14′
SGT-CBAS-2X10
2′
10′
143
776
30′
20′
14′
12′
SGT-CBAS-2X12
2′
12′
173
598
24′
14′
10′
8′
Adjustable Spreader Size:
21″-31″, 26″-40″, 32′′-50′′, 38′′-59″, 44′′-68″, 56′′-92″ (3.5″ x 3.5″ SQ TUBE)
Why Choose an Aluminum Trench Box?
The aluminum build-a-box offers a lightweight, flexible alternative to steel products. The modular design makes this equipment easy to transport — the heaviest version weighs only 173 pounds, enabling you to haul it with a small truck. Assembly is quick and easy and requires minimal setup space.
These four-sided boxes offer multiple configuration options to customize the box's shape to fit any trench opening. The trench box also has adjustable arch spreaders to provide extra clearance.
Choose From Multiple Box Sizes
The aluminum build-a-box is available in eight sizes to meet any project requirement. All options are 2 feet high, but you'll have several choices for the length, shield capacity and depth rating. You can also connect multiple modular sections to fit longer trenches.
Build-a-Box Applications
These high-quality trench boxes are excellent when working in tight spaces with multiple obstacles or when you need to reconfigure the box frequently. Examples of typical uses and applications include:
Utility hole installation projects
Underground repair work
Laterals and taps
Limited-access areas requiring a backhoe loader
Advantages of a Build-a-Box Trench Box Rental
Renting a trench box can be a practical and cost-effective solution if you only need it for a temporary or short-term project. You'll also attain better results by matching equipment with specific applications. Since you return the box after using it, you can skip storing it, too. Improved cash flow is another benefit of safer and more productive operations, making it easier to fulfill your business's financial obligations.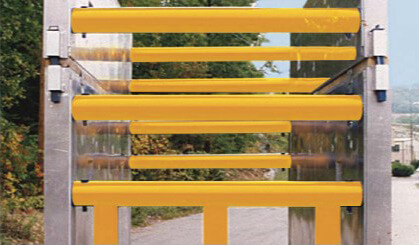 Why Rent From Us?
When you rent an aluminum build-a-box trench box from Sage Rental Services, you'll get a reliable product at a competitive price and receive exceptional service. Our equipment is available around the clock for your convenience, and we offer four-hour replacements to minimize downtime if an emergency occurs. We even provide training and support to ensure you get the most out of your rentals.
Check out our aluminum build-a-box lineup and contact us for more information and a quote today.

Get In Touch
Contact Us
If you'd like to learn more or place your order, give us a call