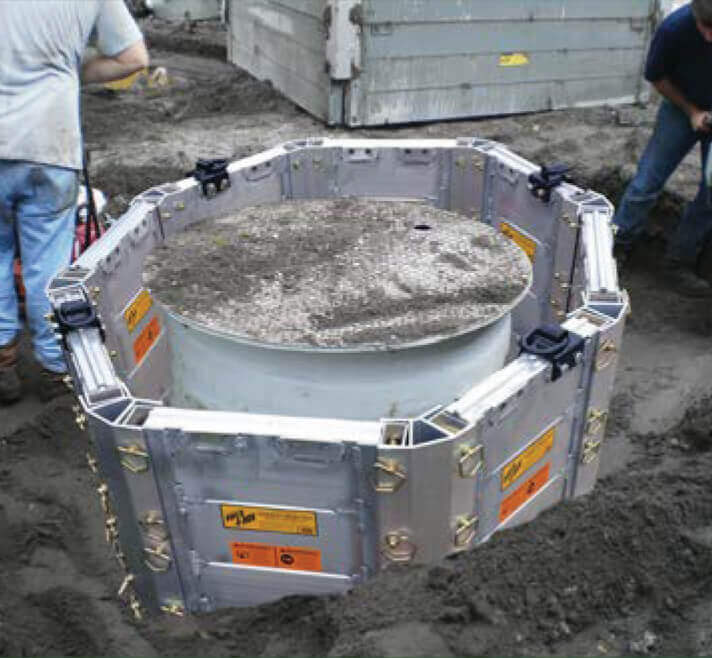 Octagon Build-A-Box™ Rental
The Octagon Build-A-Box™ is an effective solution to surround utility structures for which square or rectangular-shaped shields would prove inefficient and costly. Sage Rental Services offers a wide range of Octagon Build-A-Box™ rentals to safeguard your job site and keep your operations rolling smoothly.
Advantages
Sage unveils the newest innovation to its industry-leading Build-A-Box™ Modular Aluminum Trench Shielding System: a lightweight, Aluminum Octagon Box.
The Aluminum Octagon Box consists of standard Build-A-Box™ panels pinned in exclusive 135-degree-angle vertical posts. The result is a safe "maintenance hole shield" that is perfectly designed to shore tightly around odd-angled laterals and other utility hole leads.
• Comprised of standard 2-foot-tall Build-A-Box™ aluminum panels; lengths from 2 to 5 feet
• Inside diameter space ranging from 61 to 148 inches
• Provides eight different lateral pipe access points by leaving out 2 feet of the bottom panel
Octagon Build-A-Box
Diameter
Panel A
Panel B
61-in
BBP-22
BBP-22
73-in
BBP-22
BBP-23
85-in
BBP-22
BBP-24
90-in
BBP-23
BBP-23
97-in
BBP-22
BBP-25
102-in
BBP-23
BBP-24
114-in
BBP-23
BBP-25
119-in
BBP-24
BBP-24
131-in
BBP-24
BBP-25
148-in
BBP-25
BBP-25
Why Should You Rent the Octagon Build-A-Box™?
If you routinely work around irregularly shaped precast structures, our Octagon Build-A-Box™ trench shield rentals are exactly what you need. These industry-leading systems seamlessly shore around an array of structures to create the secure conditions your technicians deserve. Constructed from durable aluminum, they can withstand all your heavy-duty applications.
Renting an Octagon Build-A-Box™ system will allow you to specifically adhere to your temporary projects' demands. It can successfully shore around vertical and lateral structures to keep employees secure and worksite regulations up to code. Rather than investing substantial cash, renting allows you to supplement your equipment cost-effectively. Our rentals will also provide your job site with additional:
Flexibility: Our Octagon shoring Build-A-Box™ rentals meet the specifications of any project size, with modular panels available in several sizes.
Safety: These durable systems maintain job site integrity to protect your workers and reduce the risk of onsite accidents.
Efficiency: This maintenance hole shield is easy to store and transport and lowers labor costs by eliminating the need to excavate more dirt than necessary.
Trust in Sage Rental Services
At Sage Rental Services, we understand how important safety and productivity are to your job site, so we strive to provide dependable products you can trust. We have over 40 years of industry experience supplying advanced shoring solutions and caring customer support, ensuring our team can satisfy all your needs. Our professionals are available 24/7, ready to handle your repair or maintenance requests if an accident happens in the field.
At Sage Rental Services, we strive to create a seamless rental experience. We have worked with companies in countless underground construction applications, including the pipeline, water, utility and utility sectors. This experience gives us the knowledge to deliver consistent results to make your life on the job as easy as possible.

Rent the Octagon Build-A-Box™ at Sage Rental Services
If you want to add the Octagon Build-A-Box™ to your fleet to satisfy your short-term needs, Sage Rental Services is ready to help. Our team is scattered throughout Oklahoma, Louisiana and Texas to ensure you can access innovative trench safety equipment regardless of location.
You can learn more about our product offerings when you contact us online today!

Get In Touch
Contact Us
If you'd like to learn more or place your order, give us a call